The chemistry of chaos and the magic moringa
- Beth Amato
PROFILE: Professor Luke Chimuka developed a method to produce an extract from the moringa plant that is used as a dietary supplement.
Chimuka, a Zambian native and Professor in the School of Chemistry at Wits, learnt to play the jazz piano while completing his PhD in analytical chemistry at Lund University in Sweden. He fell in love with the way famous jazz pianist Chick Corea explored the keys, and the beauty and coherence of the pianist's improvisation. Jazz isn't everyone's cup of tea but Chimuka finds order in the apparent chaos.
Similarly, the Universe is chaos and science is its order – its anchor. "As a child, I wondered how the Universe was made … how things connected, and why they did," says Chimuka.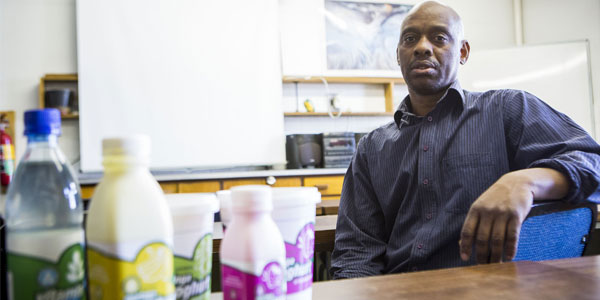 Disparate parts of a whole
It was the smaller things that caught his attention too: "I wanted to know how seeds germinated and how cells divided. I was interested in the 'building blocks' of my world," he says.
As a first-year university student, his friends called him Avogadro, named after scientist Amedeo Avogadro whose 'constant' is the number of atoms and molecules contained in a substance. "They knew I was a scientist from a young age. I was always quiet and very focused, and interested in the world around me," he says.
Chimuka's background is in liquid chromatography – a technique used to separate mixtures of different compounds into its individual parts. Initially discovered by a Russian botanist to separate plant compounds, Chimuka's early academic work involved analysing drugs and environmental chemicals with this method.
Later, he used it to analyse the moringa tree's leaves, mainly to see how much vitamin C and antioxidants were present. It wasn't merely to analyse the moringa that was Chimuka's aim, but to see how it could change the world and improve people's lives.
The magic moringa
The moringa tree originates in the Himalayas and grows in many parts of Africa and the world. According to the Food and Agriculture Organisation of the United Nations, moringa shrubs and trees have multiple uses. Its leaves, roots and immature pods are consumed as a vegetable, and its bark, pods, leaves, nuts, seeds, tubers, roots and flowers are edible.
Chimuka sees the moringa as magical, especially in South Africa, where nutritious food is expensive and food security is tenuous. The moringa tree is fast growing, ubiquitous, drought tolerant and is an excellent source of vitamins A, B and C. The leaves are rich in protein and have antibiotic effects. Its products are recommended for pregnant and nursing mothers as well as young children. "The moringa has all the essential compounds and is an excellent antidote to malnutrition in poor communities," he says.
Chimuka pioneered a method to extract a moringa liquid concentrate, which can be added to food and drinks and used as a dietary supplement, but doesn't have the bitter taste usually found in moringa powder. The liquid concentrate is drawn from a pressurised hot water extraction technology. This technology, unlike other extraction techniques, doesn't require high solvent concentrations and is environmentally friendly. The method is commonly used to extract chemicals from soil, but Chimuka adapted and perfected it.
Food supplements from science
In partnership with the Phedisanang community outside Pretoria, the Department of Science and Technology and Wits Enterprise, a business – Green Ex – was born. The business, says Chimuka, was a nice surprise and has the potential to grow. Green Ex products that have the moringa liquid concentrate include an energy drink, yoghurts, mageu, ice tea and mineral water.
"We've compared our energy drinks to a few others, and the Moringa Energy Drink has high nutritional value but without caffeine and significant amounts of sugar," he says.
"I think it's an exciting time being an African scientist. We've shown how science solves local issues and that technology advances humanity. I think African scientists must focus on simple solutions that have immediate and far-reaching impacts, just like the flushing toilet did," says Chimuka.
At 52 years old, Chimuka says he has so much more to achieve. "I don't want to think I have all this time left and that I can slow down. I may only live until I am 72 years old." His time, therefore, will be spent continuing his own research, rallying behind the Phedisanang community, and growing an excellent crop of top-rated African scientists.
Currently, Chimuka's research is in the plant biosciences, looking at how to extract the chemicals and the bitter taste out of stevia – a natural sweetener. The concentrate from the stevia plant offers an intense flavour, which puts consumers off this healthy sugar alternative. Stevia has no effect on blood sugar levels, which fares well for those living with diabetes.
In South Africa, where nutrition-related non-communicable diseases like obesity, diabetes and hypertension are on the rise, Chimuka's research could be life-saving.
Chimuka's research interests, he says, are guided by his being an activist to the core. "When I work with communities, the people really touch my heart and I become very attached to them."
When Chimuka is not tinkering with chemicals or in the field improving people's lives, he's practicing the piano, hoping to compose a simple, yet strong solo.
Beth Amato is a freelance journalist.
This article first appeared in Curiosity, a research magazine produced by Wits Communicationsand the Research Office.
Read more in the sixth issue, themed: #HungerGames where our researchers and academics unpack the latest research on food security, food science, food politics and governance, nutrition and food-related issues such as obesity, diets, breastfeeding, and body image.