Street talk: Behind the tag
- Ufrieda Ho
Codes are changing and the rules of the game keep blurring as graffiti becomes a casualty of the era of social media.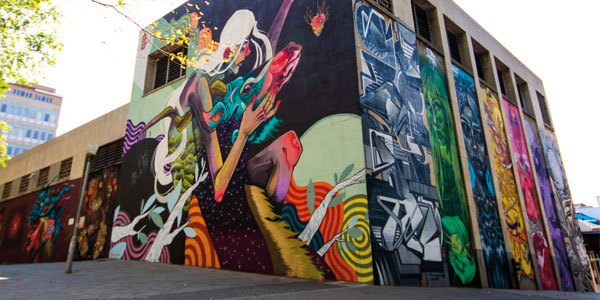 Even when the writing is literally on the wall, it can be difficult to understand – particularly in the case of graffiti, which thrives on being different things to different people.
Graffiti is by its nature confronting, contrary and coded. It's the collision point between the two worlds of the mainstream and an urban sub-culture. It's also full of contradictions of being publicly seen, but only truly known to a closed group. It's often bold and deliberate but also fleeting and ephemeral. It makes statements, but hides in anonymity.
The mainstreaming of graffiti in the last few years has also seen graffiti change to include a broad range, from tagging (graffiti artists' signatures) and throw-ups (stylised versions of signatures), to stencil works, street art, public art and even corporate commissions and advertising. These are discrete categories but share the streets and together they bring a different dimension to the visual language and feel of a city.
Colour-coding Jozi
Wits University's own backyard is a canvas from that which pops up periodically across campus, to what appears throughout Braamfontein and home to Grayscale Gallery and Store, a hub for sub-culture art forms of graffiti, tattooing and street art. The owners are also behind the annual City of Gold Urban Arts festival, which has focused on Braam's unique alleyways for transformation by street artists.
There are also artworks under flyovers on the routes to and from Wits, and The Star graffiti wall at the throbbing intersection of Jan Smuts Avenue and Empire Road has been a public canvas for years. The street art in these spaces hints at clues and codes of the clashes, mood and shifting urban agendas of the City.
Jo Buitendach is founder of city tour company Past Experiences. A self-confessed lover of graffiti, one of Buitendach's popular tours takes visitors on a deep-dive into Joburg's thriving graffiti culture. Buitendach completed her BSc in Archaeology at Wits and her Master's on political graffiti at UCT.
Kings, toys, street code
"All the great cities of the world have a strong graffiti culture," she says of how graffiti and urban identity entwine in a tangle of blight and beauty and the unapologetic bending of laws to breaking point.
"Graffiti culture is not ever going to go away – it's about leaving a mark," she says, even as individual pieces are created to fade, be scrubbed off, or themselves vandalised. She says graffiti culture is about belonging, identity, social hierarchy and structure and even as an alternative form of family.
"Graffiti is about family. Artists work in crews where there's a king at the top and toys at the bottom, so there's structure. There's a code of the streets and the movement too – like not tagging over someone else's work.
Graffiti artists also tag for different reasons; tagging is often seen as vandalism but I think tags are beautiful and they give voice to people – often young people – who are on the margins," she says.
The Tag vs. The Man
Codes are changing though and the rules of the game keep blurring as graffiti becomes a casualty of the era of social media, conspicuous consumption and commoditisation. An artist's Instagram handle may be standard with a tag nowadays as a way to boost profile and personal brand-building, and to draw work prospects. Corporate commissions of wall murals come with corporate dictates that can reduce free expression to paintjob and sales pitch, and the average passer-by may never know the difference.
Professor Melissa Tandiwe Myambo is a Research Associate with the Centre of Indian Studies in Africa and an honorary research fellow at the Wits City Institute. She says graffiti, street art, public art and paid commissions should be read as parts of a spectrum of what is on city walls today. The rule-breakers have to fight for space with corporate conformists and the dividing lines are sometimes deliberately fuzzy.
"Graffiti suffers from the same fate as a lot of hipster culture. It may begin as counter-cultural but ends up getting co-opted by the corporate sector and then deployed as a tool to market something or other. Ironically, even counter-cultural critiques of mass marketing and consumption get used this way. The growth of social media and branding means everyone is playing the same game now, so sub-cultures quickly become monetised and commodified. When they become popular enough, they are no longer sub-cultures but part of mainstream consumer capitalism," says Myambo, who edited the book Reversing Urban Inequality in Johannesburg (Routledge, 2018).
Graffiti though remains a story and a social record. Myambo describes graffiti as "an art form that is meaningful because it's contextual and is open to various interpretations, which can make how it is perceived unpredictable", which is also its nature.
M

ood and moment
Capturing change, context and being able to offer insight into some connecting points between graffiti and deciphering the mood and the moment of urban life has informed a GCRO (Gauteng City-Region Observatory) project.
GCRO researchers Dr Alexandra Parker and Samkelisiwe Khanyile have been working with Open Data Durban on developing a mobile friendly website that works like an app to create a digital repository of graffiti and street art. It's expected to be ready for public use this spring and will focus on Johannesburg and Durban as its launch cities.
Parker says that a digital archive means that something that is temporary is recorded for analysis and public access. She points to the iconic "We wont [sic] move" graffiti in Sophiatown during the forced removals of apartheid. Photographer Jürgen Schadeberg captured a street scene in 1955 of three men sitting kerbside under the defiant slogan even as the bulldozers were ready to move in. The photograph is what remains to tell that story.
Khanyile says: "We don't see that much political graffiti as before though there were works from #FeesMustFall that tell a story of that time and that's the kind of graffiti that should be recorded."
A

rtistic archive of identity
Parker and Khanyile say that building an archive will allow researchers to use graffiti to understand the identity of a place and what is expressed in public spaces even when it may go against municipal bylaws. They say it maps urban evolution, the evolution of graffiti itself, and the interplay between the two.
The mobile website will allow the public and street artists to upload photographs of works. Its location will be picked up from the metadata of the photo and the person uploading the photo will be prompted to submit details of the artist and the work and to comment. There will be an edit function so information can be verified and updated. Eventually people will be able to search graffiti and street art by neighbourhood and by artist.
Parker adds: "Over time graffiti becomes a collective visual language. It adds texture, vibrancy and colour to dull infrastructure and it raises the question of who gets to decide about the identity of our shared urban environments."
Khanyile says graffiti has given her a different connection to the city that is her home but can sometimes seem given over to crime and grime.
"I'm a scaredy-cat but even if it's just a shift of one percent, graffiti and street art makes me feel more welcome and a little safer and it makes me want to leave the office and go onto the streets to see it. And when I'm driving around the city I'm always excited about new pieces of graffiti and I can't help talking about the different styles and possible meanings to whoever may be with me in the car," she says.
Ufrieda

Ho is a freelance journalist.

This article first appeared in 

Curiosity

, a research magazine produced by 

Wits Communications

 and the 

Research Office

. 

Read more in the

eighth issue, themed: #Code

how

our researchers are exploring not only the Fourth Industrial Revolution manifestations of code, such as big data, artificial intelligence and machine learning, but also our genetic code, cryptic codes in queer conversation, political speak and knitting, and interpreting meaning through words, animation, theatre, and graffiti. We delve into data surveillance, the 21st Century 'Big Brothers' and privacy, and we take a gander at how to win the Lottery by leveraging the universal code of mathematics.