Stay curious – there's a whole new world coming in 2122
- Professor Lynn Morris
Editorial: The stories in Curios.ty 14: #Wits100 showcase the University's sustained participation, influence and impact in the lab, the classroom, and society.
Wits University celebrates its centenary in 2022 and although Wits today differs from a century ago, our raison d'être and values remain consistent: Our purpose is to impact society positively through creating and advancing global knowledge, and to foster graduates to be leaders with integrity. We value excellence, our people, and innovation.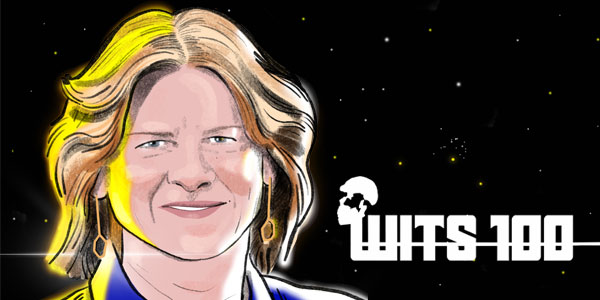 Issue 14 of Curios.ty, themed #Wits100, gives a snapshot of some of the research giants and innovations that preceded us, that shaped the world today, and which will impact on the next century.
The Featured Researchers on the cover and page 6 showcase a handful of Wits' world-class scientists and, importantly, a new generation of early career researchers – read the profile of a young forensic anthropologist (page 42).
Wits occupies a significant space in the South African higher education sector, a space as tumultuous as it is dynamic. In the story on page 8, Vice-Chancellors and others envisage the sector in the next century. Our first feature (page 10) showcases some Wits science superheroes whose research and activism has saved lives. Further evidence of such impact can be found in public health research over 30 years at Wits' Rural Campus (page 18). Read about Wits' other contributions 'beyond the ivory tower' (page 46) and the emergence of entrepreneurial innovation (page 44).
Wits is known as much for its political protest as for its academic excellence. Over 100 years, Wits has been at the forefront of speaking truth to power. The Politics of Protest story (page 22) gives a perspective on the practice of this democratic right, while the column (page 24) by eminent sociologists suggests how a Perceptions of Wits study in 1984 demands interrogation in a post-pandemic, climactic crisis world in 2022.
The evolution of science and research practice is our second feature (page 28) and unravels how we do what we do best and how it's changed since the 20th Century. We explore Wits' significant contribution to the field of genetics since we helped sequence the human genome (page 14), tackle the origins of life and death (page 16), confront climate change (page 34), and dig deep for the origins of humanity (page 36). We look up to reimagine the night sky from a state-of-the-art Digital Dome (page 32) and consider what dung beetles can teach us about navigation (page 38). Bibliophiles will enjoy the compilation of social sciences research published as books (page 40).
Wits University is as much a part of Johannesburg as gold mining. The Braamfontein campus is an anchor in the City's cultural precinct and home to the Wits Art Museum, which at a decade old reveals African stories – untold and emerging – through art (page 26).
The stories in Curios.ty #Wits100 showcase the University's sustained participation, influence and impact in the laboratory, the academy, and society. Our focus in future is on developing excellent (post)graduates who advance society, conducting world-class research and fostering innovation, and leveraging our location in the City to lead from the Global South.
We invite you to celebrate our centenary with us and, above all else, stay curious. There's a whole new world coming in 2122 – and Wits University will have made its mark.
Professor Lynn Morris is the Deputy Vice-Chancellor: Research and Innovation.
This article first appeared in Curiosity, a research magazine produced by Wits Communications and the Research Office. Read more in the 14th issue, themed: #Wits100 where we celebrate a century of research excellence that has shaped today and look forward to how our next-generation researchers will impact the next 100 years.