Second wave severity: What semi-saved South Africa?
- Beth Amato
South Africa has surprised itself and the world with fewer Covid-19 deaths despite a significantly higher infection rate as predicted.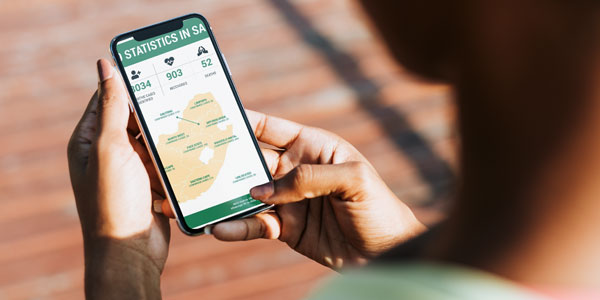 We may have indeed reached a critical stage of herd immunity thereby thwarting a second spike. The million-dollar question, of course, is why? (See an update on developments at the end of this article.)
"No-one could have predicted what happened in South Africa," says Professor Shabir Madhi, the Executive Director of the South African Medical Research Council Vaccines and Infectious Diseases Analytics (VIDA) research unit at Wits University.
"What the official figures show are not a true reflection of the actual number of people who have been infected. We believe that as many as 40% of people in densely populated areas have been infected with the virus. Antibody testing has shown this, and so about 20 million people have had Covid-19 in South Africa – which is more than the 25% we initially modelled."
Earlier exposure to other coronaviruses
Curiously, the high infection rates did not translate into a high rate of hospitalisation and death. (This is despite the South African Medical Research Council reporting, at the end of August, that there had been 43 000 "excess deaths" over and above the documented Covid-19 related deaths). Many of those infected were asymptomatic or mildly symptomatic.
"I think that our low death rate, despite high infections, is a result of cross-protective immunity, probably because we've built up immunity from exposure to other coronaviruses," suggests Madhi.
But, he adds, this still does not explain everything. Professor Martin Veller, former Dean of the Faculty of Health Sciences at Wits, agrees that all the reasons for South Africa's lower number of deaths and hospitalisations are not known, and are multifactorial.
Age matters
"There's no doubt, for example, that our youthful population meant we'd have different outcomes. The median age in South Africa is 27, which is young. Age matters it seems, despite our high burden of other diseases," says Veller.
In other words, while those with co-occurring diseases like diabetes, hypertension and obesity were more susceptible to developing complications when contracting Covid-19, younger people with these illnesses were better off than their older counterparts with the same illnesses. The excess deaths reported at the end of August were mostly people over the age of 60. "We don't know why age matters, but it does," says Veller.
He notes that there is also some evidence that temperate climates play a role in flattening the curve of the virus. "In colder climates, like New York and Washington D.C., there was a rapid spike in cases at the beginning of the outbreak. While there is now another infection wave in the US and weather is warmer in September, [the second wave] is 'flatter' in warmer places like Arizona and Texas."
Herd immunity – How long does it last?
Herd immunity refers to a form of indirect protection from infectious disease that occurs when a sufficient percentage of a population has become immune to an infection – whether through previous infections or vaccination – thereby reducing the likelihood of infection for individuals who lack immunity.
Cheryl Cohen, Professor of Epidemiology in the Wits School of Public Health and Head of the Centre for Respiratory Diseases and Meningitis at the National Institute for Communicable Diseases, says the high proportion of people who have been infected with the novel coronavirus have developed antibodies to protect them against further infection – at least for a while. This immunity is certainly one of the factors reducing transmission.
"On a population level it is helpful to understand that the proportion of people who have evidence of previous infection may be assumed to have some level of protection against another infection. But we have no idea how long this immunity lasts," says Cohen.
But a new study, led by Cohen and known as the PHIRST-C study, may shed some light on the question of immunity. The study aims to find out how many people in individual households in rural and urban South Africa become infected with the novel coronavirus, how asymptomatic people transmit this virus, and how this virus interacts with other pathogens.
Insights into viral re-infection
In the PHIRST-C study: SARS-CoV-2 community burden and transmission in two South African communities, participants will be tested twice weekly until the end of 2020 to determine whether they become infected with SARS-CoV-2, the coronavirus that causes Covid-19 disease.
Sero-surveys will be used to investigate the presence of antibodies, which are evidence of an immune response to the infection. "The serology results from this study may help answer some outstanding questions related to Covid-19 immunity, for example, the level of antibodies needed to provide protection against re-infection, as well as the rate of asymptomatic infection in South Africa," says Cohen.
Until we have a better understanding of how herd immunity works with the novel coronavirus, however, measures like mask wearing, hand washing, avoiding large gatherings and social distancing must be adhered to, says Madhi. "There may be a resurgence of infections if we throw caution to the wind, but this resurgence, thankfully, may be less severe."
In the meantime, Wits scientists are working hard to produce a vaccine. "We're way up there in terms of being able to produce something viable," says Madhi. SARS-CoV-2, like many respiratory viruses, is here to stay. "Let's hope it becomes a seasonal virus with sporadic outbreaks," he says.
Update
"As of 17 December, SA is engulfed in clearly experiencing a major resurgence. The scale of it is unclear as yet, but preliminary data worryingly suggests it may even be more serious than the first. The pattern is also similar to the first wave, with the Western Cape and Eastern Cape affected, and signs of Gauteng and KZN being affected. This is of huge concern, as everyone is going on holiday to many of the worst affected areas. Remember that forming a 'pod', doing anything with other people outdoors, physical distancing, masks and handwashing are your chief defence," says Professor Francois Venter, Ezintsha.
Beth Amato is a freelance writer.
This article first appeared in Curiosity, a research magazine produced by Wits Communications and the Research Office.
Read more in the 11th issue, themed: #Viral. Inspired by the SARS-CoV-2 global pandemic, content relates to both the virus that causes Covid-19, as well as the socio-economic, political, and environmental ramifications