Pushing privacy buttons
- Schalk Mouton
COLUMN: It feels like I am trapped in a scene of the Ferris Beuller movie. It is all a dream of the (near) future. Or a nightmare?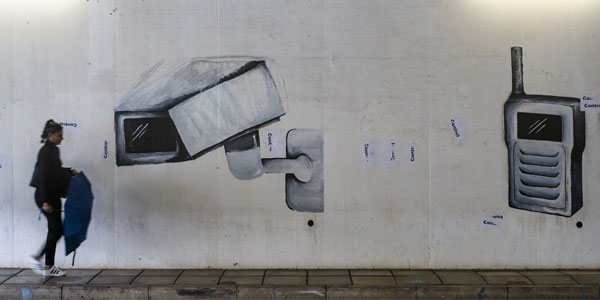 It is 5am. My cell phone alarm goes off. The Wifi-enabled cat had come in through her personally secured cat-door and had begun making pudding in my armpit from 4:40.
The cellphone immediately switches on the coffee maker. The cat wakes the dogs, who bark. The barks are real. Not digitised. I get up. Go to the loo. The toilet roll holder tells my local Spar that my toilet roll supplies are getting low. I have no idea who the toilet is talking to, and what it says to whomever listens.
Breakfast. A good fry-up. Eggs, bacon, some veggies. The radio is on, but it realises that the music is not to my taste. Bieber. It switches automatically to a channel that plays music from back in the day when music was real.
The sun rises. The curtains open and adjust automatically to keep the temperature optimal in the house. Both the temperature and CO2 levels are regulated by the central brain of the house. I've got a smart house. Even the refrigerator has enough computing power to send a space ship to the moon. I feel intimidated. The thing's got only one job, and one job only! That is to keep my food fresh and cold, for crying in a bucket!
Breakfast's done. The coffee pot's empty. The coffee machine tells my car I am ready to leave. The car switches itself on and starts heating my seat.
On my way to work, the cameras watch me. When do I leave? Where do I go? Which route do I take? They're mapping all my movements. I know the security firm buys the feed from Vumacam. That is all fine, but to whom else do they sell the feed? Who else is tracking my movements?
Hungry already and feeling like a snack. The local McDonalds knows this. They know I am in the area. They automatically get my order ready. It is based on my mood, my tastes, the time of day and year, and the length of my hair at the moment. All established from all kinds of data, from previous buying history, to scraping my Facebook account. It is all very smooth. The only problem is my food is cold when I arrive, due to a malfunctioning traffic light, which the City still doesn't seem to be able to get right.
It feels like I am trapped in a scene of the Ferris Beuller movie. It is all a dream of the (near) future. Or a nightmare? I am not sure. Where is this world going? What is happening to us? Never mind being replaced by robots in the workplace, I am becoming redundant in my own home! What in the world is wrong with closing the curtains yourself?
Now I realise I sound quite negative about this new world into which we're heading. I'm not really. There are many ways smart homes might enhance our lives and new technology does add value. For instance, when you are on holiday, a smart water geyser, linked to the internet can immediately inform you when there's a problem, or that it has burst. It will immediately automatically switch off the water supply to prevent you from having a flooded house when you get back home, while at the same time contacting the insurance company to open a claim. Should your house be fitted with smart locks, you can even let in the plumber (whether a person or a drone) from where you are lying on the beach with a tap on your cellphone, and the problem is fixed even before you get back from your relaxing holiday.
But I think we need to consider what this high-tech future might mean to us as human beings. There are a number of challenges still to overcome with this new tech in our homes and societies. For instance, how do I know that my intelligent fridge (my fridge is more than smart – it can send stuff to the moon), is not busy rigging the upcoming elections, while placing my order for fresh marshmallow Easter eggs? And no, this is not as far-fetched as you think!
Also, do we really need to be listened to, and watched constantly? By 2021, the virtual smart assistant – Amazon's Alexa, Apple's Siri Home, and so forth – market globally is expected to be worth $16b. These devices are built specifically to listen to you. In 2018, Alexa "inadvertently" recorded a private conversation between a couple and sent it in an email to a random contact. Amazon provided a highly unlikely scenario to explain away the incident. What does "inadvertently" mean?
Why record a private conversation between two people in their own home in any case? This, to me, is reason to worry. The device is designed to listen to you all the time! Yes, you can ask it to change your radio station when you don't want to listen to Bieber, but again, what is wrong with pressing a button?
The smart home business is growing to staggering numbers at the moment. It really is the next best thing. Imagine what the iPhone did to our society in the past decade, then you can imagine what smart home systems and the Internet of Things will do to us in the next decade. No, I am not a sceptic. I just still like my privacy. Being the good introvert that I am, I like to be alone. I need to be alone. I don't like to be watched and listened to all the time, nor have all my movements tracked.
Yes, I would like to have all my groceries delivered to me every week, but I still actually enjoy the outing of going to the fresh grocer every now and then and actually chat to the people who supply my food. At least, they make me feel welcome, and relevant, when I pull out my credit card to pay … Call me old fashioned!
Schalk Mouton is a Senior Communications officer in Wits Communications.
This article first appeared in Curiosity, a research magazine produced by Wits Communications and the Research Office.
Read more in the seventh issue, themed: #Ekhaya (isiZulu for 'home') about our homegrown research that crosses borders and explore the physical spaces we inhabit, where we feel we belong, where we're from and what we identify with, including the physical/psychological space we may return to – or reject.