Navigating political land mines
- Schalk Mouton
Using text mining – a relatively under-utilised approach in South African humanities research – to unlock patterns and relationships.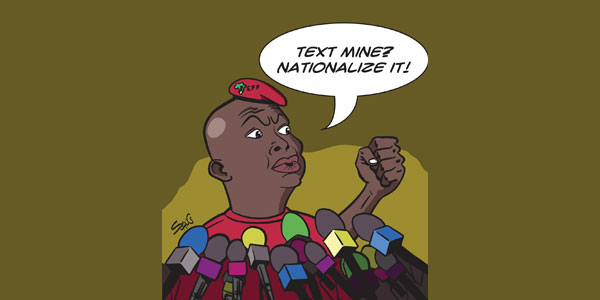 The words that someone chooses to use often tells you more about the person than what you might think. It could even be used to predict where a person's thoughts are heading, and – in the case of politics – identify where ideological differences or similarities lie that could forge or destroy alliances.
Using text mining techniques, Dr Retha Langa analysed the court papers of the hate speech case that Afrikaans civil rights organisation AfriForum brought against the Economic Freedom Fighters (EFF) leader Julius Malema, over his singing of the song Dubula ibhunu (Shoot the Boer), in order to see what the underlying thought patterns were that led to specific future events.
"Text mining is a relatively under-utilised approach in South African humanities research, but one that can help us unlock patterns and relationships that might otherwise go unnoticed," says Langa.
For instance, in 2018, the land issue exploded onto South Africa's political stage with the public hearings about amending Section 25 of the Constitution showing that it is simultaneously a political and a deeply personal one, rooted in our segregation and apartheid past.
Decoding the lay of the land
Threats were made by some to go to war to defend farms, while others called for the restoration of dignity and a return of the land. When analysed, the Malema/AfriForum trial seven years earlier over whether a struggle song constituted hate speech, shed some light on these events. This case featured several high-profile witnesses, including Derek Hanekom, Gwede Mantashe and Malema, who was then still president of the ANC Youth League.
Langa pulled a dictionary closer, tracked the occurrence of specific words, and looked at three recurring themes, namely 'reconciliation', 'transformation' and 'land'. Reconciliation keywords included 'dialogue', 'Constitution' and 'Mandela'. Words such as 'freedom', 'revolution' and 'transformation' formed part of the transformation cluster, while land words included 'farm', 'land' and 'agriculture'.
"Land was the dominant theme with words in the land cluster appearing 335 times – 51% of the total. Reconciliation terms occur 174 times (27%) and words in the transformation cluster occur the least – 144 times (22%)," says Langa.
The ANC's testimonies revealed several interesting patterns. Its transformation cluster was slightly bigger than its reconciliation one, with the party's five witnesses (Mantashe, Malema, Hanekom, Collins Chabane and Professor Mongane Wally Serote) using 120 transformation words compared to 115 reconciliation terms.
Langa says this could point towards the tension between ideas around reconciliation and transformation which has since erupted openly as the party becomes more embroiled in brutal internal battles.
Secret synergies
Differences emerged when Langa zoomed into the ANC's testimonies to compare views within the party. To do this, the normalised testimonies of Chabane, Serote, Mantashe and Hanekom were divided by four to create an average ANC 'veteran' witness. This was then compared with Malema's normalised testimony. A very clear difference between Malema and the other ANC witnesses emerged.
"Malema was clearly an outlier," says Langa. "During the trial, the ANC 'veteran' witnesses were still holding on to former president Nelson Mandela's vision of reconciliation, while Malema – who would be expelled from the party 10 months later – was already pushing a more radical agenda, which would see him emerge as a thorn in the ANC's side."
Not long after the trial, Malema would use the failure of both land reform and the reconciliation ideology as foundations for his political revival within the EFF.
Catching feelings
Langa went one step further, aiming to explore emotion in the witnesses' testimonies. By using sentiment analysis, with a lexicon containing thousands of English words assigned scores for positive or negative sentiment, she again mined the court papers for their hidden treasures. The word "kill", for instance, had the biggest impact on negative sentiment, while "freedom" made the biggest contribution to positive sentiment.
"The testimonies were overwhelmingly negative. Hanekom's sentiment score was the lowest, followed by Malema and AfriForum's Ernst Roets," says Langa.
"The testimonies were generally characterised by a high level of emotion. Witnesses often became emotional during the trial, especially when testifying about land."
Schalk Mouton is a Senior

a Communications officer in 

Wits Communications

.

This article first appeared in 

Curiosity

, a research magazine produced by 

Wits Communications

 and the 

Research Office

. 

Read more in the

eighth issue, themed: #Code

how

our researchers are exploring not only the Fourth Industrial Revolution manifestations of code, such as big data, artificial intelligence and machine learning, but also our genetic code, cryptic codes in queer conversation, political speak and knitting, and interpreting meaning through words, animation, theatre, and graffiti. We delve into data surveillance, the 21st Century 'Big Brothers' and privacy, and we take a gander at how to win the Lottery by leveraging the universal code of mathematics.