Feel at home at the office
- Mirah Langer
If home is your castle, can the office be your palace? The need to ensure wellbeing at work is critical.
In fact, Professor Andrew Thatcher, Chair of Industrial/Organisational Psychology in the Department of Psychology, School of Human and Community Development, explains that the focus now, more than ever, is on ensuring that workplaces are not just productive – but also actually good for one's health.
In particular, innovation around office design is at the core of ensuring workplaces can serve as a healthy 'home away from home'.
While the kind of work you do and your relationship with your boss are crucial factors, the three most critical factors in constructing favourable work conditions are fresh airflow, noise levels, and the quality of light.
"The most important factor to [sustain] mental health from a built environment perspective is actually fresh air," says Thatcher.
"Generally, a good and healthy environment is one where you have adequate lighting for the type of work that you are doing … Natural light is generally the best for most tasks."
Daylight ensures you remain connected to the outside world – rather than become immersed in a workplace bubble. "If you are working entirely with artificial light, it creates a psychological disconnect."
In terms of noise levels, suitability is determined according to the type of tasks. However, research has also shown a link between personality types and productive noise levels.
"Extroverts tend to function better in noisy environments whereas introverts tend to concentrate much better in quiet environments."
Work moves and 'coffices'
'Agile working spaces' are one way to cater to more varied needs: "People, during a work day, are not always doing the same task; instead, they move between tasks. At times they need to collaborate, at other times they need privacy; they might also need some downtime just to get a coffee."
With activity-based workspaces, companies create diverse office areas and people move between them as needed.
Thatcher has conducted research on the benefits of these spaces in some well-known South African companies. He found that initially employees were very resistant to the change – becoming territorial over spaces. However, once they move beyond this reaction, the advantages are striking: "People end up moving around a lot more, which is good for their health … They also are able to choose where [in the office spaces] they can be most productive."
The rise of mobile office spaces and the use of sites like coffee shops as instant offices, can also be useful as it allows people to move around until they find the most appropriate space for them.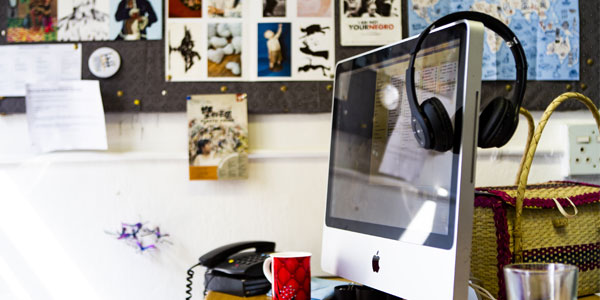 Holistic office health
Another innovation in workplace health is the shift towards establishing so-called green buildings or well-building institutes. These are workspaces designed to ensure productivity as well as promote holistic wellbeing.
Great success has been shown when a workplace integrates access to other services for their employees, for example, when an office complex also offers a gym, dry cleaner, or even has an adjacent shopping centre.
Initiatives that further encourage workers to feel some kind of personal connection to their office space, such as decorating a desk, have also shown positive results.
"The minimalism trend in the early 2000s to limit clutter and have clear desks was an unmitigated disaster … In most office environments, some personalisation allows people to connect to their work. When they connect to their work, they are more likely to be more productive and feel better about being there."
Policies that allow people certain days when they can work from home rather than at the office actually have contradictory results. Research showed that in order to cope with the disruptions of the home environment, workers push themselves harder and for longer hours.
"Organisations love that – but it is not necessarily healthy and good for a person. It may lead to issues of burnout."
One of the key challenges about modern work life is how it tends to leak into the home space so significantly. "There are real psychological dangers when you think it is okay to answer a work call at dinner … You are extending your disembodied self into another realm."
As such, Thatcher supports initiatives like those in France where it is illegal for companies to force employees to respond to work messages or emails after working hours.
"It is great – it is turning around to an organisation and saying that you do not own this person's life."
Mirah Langer is a freelance journalist.
This article first appeared in Curiosity, a research magazine produced by Wits Communications and the Research Office.
Read more in the seventh issue, themed: #Ekhaya (isiZulu for 'home') about our homegrown research that crosses borders and explore the physical spaces we inhabit, where we feel we belong, where we're from and what we identify with, including the physical/psychological space we may return to – or reject.