Diving deeper in a time of dryness
- Ufrieda Ho
Finding ways to explore water and oceans differently requires a new kind of fluidity, the kind proposed by Oceanic Humanities.
There's a salty distance between the known and the unknown, as if ocean depths have escaped interrogation despite water, the liquid of life, being impossible to ignore.
The Oceanic Humanities is a new research and postgraduate project based in the School of Literature, Language and Media at Wits – headed by Professor Isabel Hofmeyr and funded by the Mellon Foundation.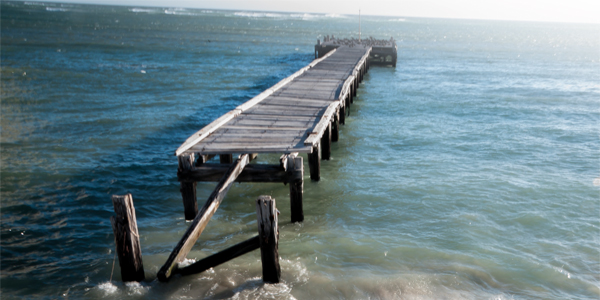 Hofmeyr says oceans are shouting out to be researched by humanities, rather than just from conventional entry points of marine science and engineering.
"Humanities research on oceans has primarily focused on what happens on the surface of oceans, like the backwards and forwards move of people and cargo. We need to go deeper. The oceans are literally getting closer as sea levels rise and climate catastrophe becomes our reality," she says.
It is also imperative that we find solutions to the burdens that our waste has on the oceans, which caused the floating plastic island predicament.
The Oceanic Humanities programme is a platform to tackle wide ranging themes – from finding solutions to our water crisis and reversing our environmental devastation, to exploring hydro-colonisation and the politics of sovereignty claims on mineral-rich sea beds exposed by receding polar ice.
"It's also about slipping under the surface of the ocean to explore things like marine archaeology, or looking at [the impact] of non-human actors like monsoons and cyclones on people and societies. It's re-thinking human entanglement with oceans," she says.
Teaching Oceanic Humanities deserves a shake-up too. Hofmeyr is no stranger to challenging conformity in pedagogy. In 2009 she participated in a project by former Wits students Molemo Moiloa and Nare Mokgotho. They set out to probe the limits of public lectures, the barriers to learning, and the inherent exclusivity of universities and academia. Hofmeyr delivered a lecture – no different from what she would typically give in a classroom at Wits – to random commuters on their everyday train ride between Park Station and Phomolong in Soweto.
Last year Hofmeyr hosted the workshop Sound on Water at the Wits Institute for Social and Economic Research (WiSER). It bought together the diverse expertise of a musician, a musicologist, an engineer, and a social scientist. It was billed as "a workshop exploring ways to think with and through water in radically interdisciplinary ways".
The keyword is "interdisciplinary" because Oceanic Humanities seeks to grow connections beyond the limitations of an individual's field. The programme is also founded with strong global south links and emphasises partnerships with Mozambique, Mauritius, India, Jamaica and Barbados.
"It is about learning from each other and [from the] new connections that can change the conversations we are having about our oceans and seas, also our water," says Hofmeyr.
Talking and thinking water in a time of dryness demands collaboration, creativity and innovation. Taking a deep breath and plunging into the murky depths is an invitation to find the clues to make 'human' more resilient, more adaptive, and more respectful of one of our most precious resources.
Read more about the research conducted across faculties, disciplines and entities to help secure humanity's most important resource for survival: water, in the fourth issue of Wits' new research magazine, Curiosity.