Blue-ribbon bulls and agriculture
- Deborah Minors
HISTORY: The annual Rand Easter Show has it muddy and beefy origins on Wits' Braamfontein campus.
Established in 1894, the objective of the Witwatersrand Agricultural Society was to encourage better farming in the Transvaal and, most particularly after the Anglo Boer war, encourage reinvestment in agricultural and more scientific farming, led by mining and agricultural figures.
The Society held its first (mainly agricultural) show in 1894, which President Paul Kruger opened. In 1903, Lord Alfred Milner persuaded the Transvaal government to allocate land for development to Johannesburg. This space, named Milner Park, became the new site for the Society to host its annual show.
The Sun & Agricultural Journal of SA hailed the "1923 Easter Show – a great cattle show – all breeds represented – unique array of trophies". The article points out that "cattle from other Provinces of the Union and from Rhodesia can compete at the Rand Show" and hints at "a tempting display" expected on March 28. "They are well distributed over both the beef breeds and the dairy breeds, and, as will be noted from page 31 of the catalogue, the first of the beef breeds mentioned in alphabetical order is the Africander."
In 1947, the Royal Family, King George VI, his wife Queen Elizabeth, and their daughters, Princess Elizabeth and Princess Margaret, visited South Africa. The family attended the show and inspected the cattle.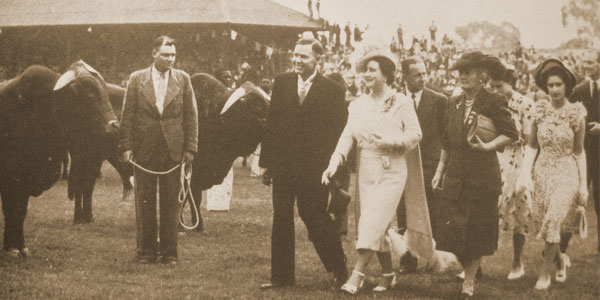 The Society survived many financial and political vicissitudes and never had enough money to cover its expansionary plans. The weather sometimes wreaked havoc with attendance numbers and there were no shows during World War II, as the Union Defence Force occupied Milner Park from 1941 to 1945.
The Witwatersrand Agricultural Society finally folded in 2001 when the West Trust liquidated its assets. The third exhibition area, the Nasrec Expo Centre, passed into the ownership of Kagiso Exhibitions, which todays hosts an entirely different type of exhibition, the Rand Easter Show.
Although there are no longer cattle on West Campus, ducks, geese, and koi abound down by the Cape Dutch cottages (est. 1936 and modelled on a wine farm in Paarl to showcase Cape agriculture), Witsies today enjoy fine dining (and sirloin steak) at the elegant Wits Club.
Sources:
WITS Review October 2008, pgs. 30-35, The West Campus at Wits, Honorary Associate Professor Katherine Munro
The Sun & Agricultural Journal of S.A, Witwatersrand Agricultural Society, Feb. 1923, pg. 87