Beating the pandemic through innovative thinking
- Beth Amato
Three Wits postgraduate students demonstrate how their research and innovative ideas contribute to addressing a pandemic.
Scientific breakthroughs are often synonymous with the toughest times in human history. Now, when public mistrust of science abounds thanks to fake news and misinformation, the widespread adoption of new scientific innovations requires something more. Scientists need to make their discovery meaningful, trustworthy and engaging to a wide variety of people.
The Wits PHD Seminar in September 2020 aimed to attract postgraduate students who wanted their research to "speak to as many publics as possible". The Senate Graduate Studies Committee chose the word 'pandemic' for the competition, with the winners selected not only for their accessible presentations, but for their scholarly ingenuity, disciplinary flexibility and responsiveness in the face of global challenges.
"The most important requirement was that students should demonstrate how they could tweak their research for the benefit of literate publics," says Professor Robert Muponde, Head of Postgraduate Affairs.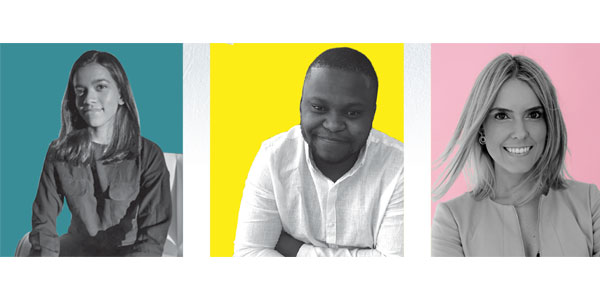 Eleven students entered the competition. Here are the top three:
Covid early-warning in waste water
Competition winner, Tamlyn Naidu, a PhD student in the School of Chemical and Metallurgical Engineering, looked at how early detection techniques in sewage systems could curb Covid-19 infection rates.
Pathogen-based illnesses are mysterious and cunning: transmission can occur between people who experience no symptoms. The likelihood of these people getting tested or visiting a doctor is small, meaning accurate measures of infection cannot be obtained. Even so, direct testing is time-consuming, cumbersome and expensive, and a widely available Covid-19 vaccine a long way off. An interesting solution to early detection and control of transmission is the testing of faecal matter in waste-water treatment plants in South Africa.
Naidu says that infected people shed billions of viral particles in their faecal matter, even while asymptomatic. Her 'biosensor' has two parts: one for isolating the genetic material, and the other for identifying this genetic material. Using the biosensor to detect the presence, concentration, type and strain of a biological organism, especially highly contagious pathogens, allows for accuracy of infection statistics and the identification of community hotspots.
Waste water testing has been used to detect both viral and genetic illnesses in the past – the polio virus is the most commonly tracked in sewage plants and, where cholera has been found in hospitals, scientists have tested the broader area's waste water to see the disease's spread. Anthrax, botulism, plague, smallpox, and others are also commonly tested for, and narcotics, hormone and prescription drugs can also be identified.
"The importance of waste-water testing can't be underestimated. If viral and indeed, genetic diseases are detected, future generations' health could be saved," says Naidu.
While the testing of faecal matter in waste water treatment plants has not been implemented on a large scale, the Netherlands analysed sewage to determine the number of people in a particular area who had been infected, with a reported accuracy of every one in 100 000 people.
If implemented properly, Naidu's biosensor could potentially track a number of different pathogens. However, little research has gone into large-scale production of the equipment, making it an expensive endeavour. "But, in the case of an epidemic or even a global pandemic, these costs would be off-set almost entirely," she says, adding that the biosensor is also versatile in that it can be used in any size facility. In the case of SARS-CoV-2, for example, countries could have started tracking waste water in airports to determine when the virus entered the country. Indeed, biosensors could be placed in homes and at private facilities.
Covid face masks on 'nano' steroids
Zakhele Ndala in the School of Chemistry took second place for redesigning the face mask to deactivate airborne viruses, using nanomaterials.
With mounting evidence indicating that SARS-CoV-2 is airborne, measures such as wearing a face mask to prevent transmission are effective. But Ndala goes a step further: he introduces nanomaterials in face masks to increase their efficacy. Any virus, he notes, would not make it past the mask matrix and would become inactive.
The three components used would perform three functions: Polydopamine nanofibres will act to trap aerosol particles; silver and copper nanoparticles will inactivate the virus; and nanoflowers from the inorganic compound (MoSe2) would be used to immobilise the silver or copper nanoparticles and prevent them from clustering and becoming ineffective.
"Our nanomaterials fabrication lab in the Wits School of Chemistry is fitted with an electrospinning machine. This machine allows us to fabricate nanofibres of different sizes from various polymers," says Ndala.
The World Health Organization has flagged the risk of self -contamination with the wearing of normal fabric masks. While these masks are better than nothing at all, Ndala's antimicrobial mask would be able to inactivate a virus or bacteria that it comes into contact with, which is a feature that normal masks do not have.
The antimicrobial masks would ideally be piloted in healthcare facilities where frontline workers are at a higher risk. "Currently, there is a higher cost of production for these special masks compared to the surgical masks worn now, but with several new innovations being developed to make antimicrobial masks cheaper, we're confident that it could be piloted soon," says Ndala.
Changing behaviour by Sharpener communication
Leigh Crymble, a PhD student in Wits Business School, took third place for her research into how language, values and decision-making shape a person's adoption of behaviours to avoid contracting Covid-19.
While non-pharmaceutical interventions, like mask wearing, handwashing and social distancing, are proven to mitigate the spread of SARS-CoV-2, there are many people who do not adopt these behaviours. But science can explain this too: "It is as a result of inherent behavioural biases, coupled with generic, passive communication methods," says Crymble.
This is where "nudge" theory comes in, and where Crymble's submission is unique: she wants to enact behavioural change using a framework called Behavioural Linguistics. "This approach proposes the development of personalised communications tailored to multiple language profiles to reduce behavioural friction and encourage increased compliance," she says.
To delve deeper, a behavioural linguistics model, known as SHARPENER, is highly likely to "nudge" or convince people to do something different. Indeed, SHARPENER was first used for a series of handwashing posters that Crymble developed for the Department of Health.
Crymble's handwashing posters worked in that there was simple accessible language, the benefits were highlighted, the message was action based, and they called upon community spirit (Ubuntu). The posters used striking visual language, in blue to signify trust, and blue ticks to show that the information was verifiable.
"Making a decision is very intricate, and so our messaging must tap into the various motivations and beliefs guiding decision-making," she says.
What is Sharperner?
Subliminal: Subconscious cues used such as visual language (colour, imagery)
Herding: Make recipient aware that other people are following the desired action for social proofing
Aversion to loss: Highlight the possibility of losing out on something if the recipient does not act
Reciprocity: Offer the recipient mutual benefit through something tangible (gift, appreciation)
Positive self: Encourage recipient to picture themselves in a favourable way through their action
Expertise: The message-sender should be trustworthy and in some position of authority or credibility
Novelty: Message needs to catch attention with positioning that is new or unusual and relevant
Existing state: The status quo or the default is the easiest option for recipients, reducing need for a decision
Rarity: Include scarcity (time, special offer, limited availability) to drive urgency.
Beth Amato is a freelance writer.
This article first appeared in Curiosity, a research magazine produced by Wits Communications and the Research Office.
Read more in the 11th issue, themed: #Viral. Inspired by the SARS-CoV-2 global pandemic, content relates to both the virus that causes Covid-19, as well as the socio-economic, political, and environmental ramifications.