Balancing two worlds
- Portia Cele
PROFILE: Nothing is more empowering than the feeling like you are being heard. Dr Nomfundo Moroe lends an ear and empathy to the Deaf community.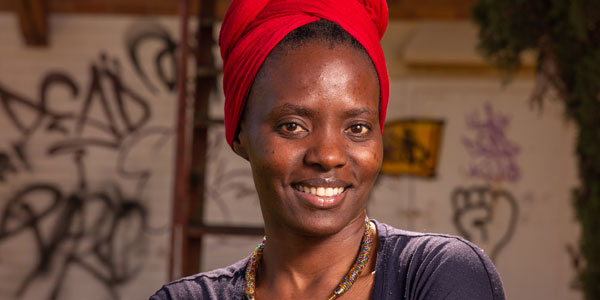 Imagine this: A five-year-old child with perfect hearing whose parents are both hearing impaired is unwittingly positioned between the hearing and the non-hearing worlds. The child communicates with her parents in Sign language and is responsible for translating and talking to the outside hearing world on their behalf.
Such an encounter with a Child of Deaf Adults (CODA) a few years ago ignited the interests of audiologist Dr Nomfundo Moroe, and inspired her research interest in how these children cope with being the mediator between their Deaf parents and a hearing world.
"When working as a junior audiologist for the Department of Health, I interacted with a young girl who used to come to my department to buy batteries for her mother's hearing aids," says Moroe. "In one of our engagements, she told me that her parents were Deaf." Moroe became curious, and started enquiring about the child's everyday life. "I would ask her about her day-to-day experiences. I learned that she'd have to skip school to accompany her mom to appointments as there was no one else to help translate."
Long before then, two of Moroe's undergraduate classmates at Wits made Moroe wonder how Children of Deaf Adults managed to keep a balance between the 'hearing' and the 'Deaf' worlds. These interactions inspired Moroe on to postgraduate study. In 2013 she published extensively on Children of Deaf Adults being the ears and mouths for their parents, and the delegation of these children to act as interpreters for their families.
Five years later, Moroe shifted focus from Children of Deaf Adults to the area of occupational health, safety and environment. In 2018 she earned a PhD for the topic of Occupational Noise-Induced Hearing Loss in South African Large Scale Mines: From policy formulation to implementation and monitoring.
Planting a seed
As one of eight siblings, Moroe was raised by her mother and late uncle after her father passed away during her first year in high school. "My mother is a teacher and she values education. She named me Nomfundo, which means 'mother of education', and my paternal grandmother named me Hlakaniphile, which means 'the intelligent one'. So you can see that I was born with a mission – to pursue education."
During her final year of high school in 2001, Moroe would often visit the private practice of the local GP, Dr Mabusela, across the road from her home in Esikhawini, a township in Empangeni, KwaZulu-Natal.
"Back then, I didn't have access to a resource like Google to find out what this discipline [audiology] was about. Dr Mabusela gave me a brief background, saying he's seeing a lot of patients who were Deaf and in need of speech therapy and audiology services, but had no one to refer them to. I can safely say he planted that seed, as I then applied for Speech Pathology and Audiology at Wits.
The intelligent one listens
During the course of her degree, Moroe became a wife and subsequently a mother of two boys. She says she had difficulty balancing these demands. "I was a smart student but that did not come through in my undergraduate training. Therefore, I needed to prove to myself that I was not as incapable as some of my lecturers had said. So I enrolled for a Master's degree to take back my self-worth and to live up to my name."
Her research took her deep into the Deaf community as she published on the topics of identity and belonging within the hearing and the Deaf world, and the role of audiologists in these families. Moroe says the Deaf community revealed itself as confident a community as any other.
"People who are Deaf see themselves as a cultural group. They are a community and function well within that community without any challenges. The difficulties begin once stepping out of their own world," says Moroe. What further creates fractious feelings is that sign language is misconceived as being only for a 'disabled' group of people, and hearing people who are capable of learning a manual language aren't making enough effort to do so. "As the hearing world, we can work to be more accommodating."
It starts with changing the perception of Deaf people as being disabled. Healthcare professionals sometimes see the hearing loss before they see the person and label the person as 'Deaf'. They then have sympathetic attitudes, which are problematic, says Moroe. "We come in with a lens of pathology and impairment whereas the hearing impaired choose a social view that 'although we are a minority, we are a community who embraces our difference'."
Moroe's research interests turned from children of Deaf Adults to unacceptable levels of noise in the mining environment, after meeting up with her PhD supervisor, Professor Katijah Khoza-Shangase. She started focusing on occupational noise-induced hearing loss.
Going underground
During her PhD, she found that the noise made by equipment in South African mines far exceeds the legal 85 dBA limit. To put this into perspective, a conversation between two people sitting across from each other at a table tallies at about 45-50 decibels.
"Legislation states that if workers are exposed to high volumes, they should be using hearing protective devices. Not much has been done to help educate workers about the long-term impact of noise," she says.
The effects of being continuously exposed to noise only become evident a decade or so later. It was these effects on ordinary workers, and how that might make them feel, that piqued Moroe's interest in this research area. "My argument is that people at work are trying to make a living and feel they don't have an alternative," she says.
Moroe went on to publish more than 10 manuscripts on the topic of occupational noise-induced mining loss, earning her PhD by publication in December 2018.
"Going through my journey of study I realised how little exposure and research was done on occupational hearing loss. I am forever trying to come up with ways of how best to address the noise issue in the mine sector."
Moroe, a fellow of the Consortium for Advanced Research Training in Africa (CARTA), whose research is supported by the National Research Foundation, has a vision of opening an occupational health and safety unit, working with occupations where there is excessive noise.
Portia Cele is a freelance writer.
This article first appeared in Curiosity, a research magazine produced by Wits Communications and the Research Office.
Read more in the 10th issue, themed: #Mood how our mental health and wellbeing are impacted by the socio-economic, political, psychological, legal, ethical, cultural and technological interpretations of our world.