A philosophy for good. A University for good
- Tiisang Monatisa
There is something significantly common in the way in which all good things are good.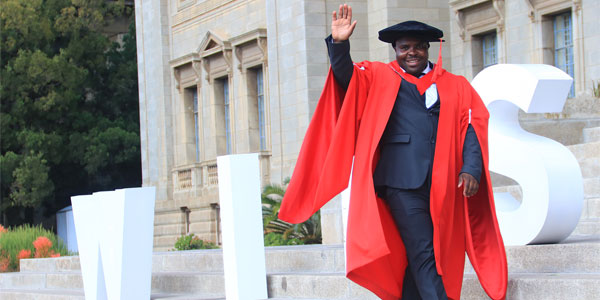 Almost a century since Wits awarded its first doctoral degree, the University in July 2022 awarded its first PhD published in isiZulu to Dr Dumisani Ephraim Khumalo for his thesis, titled Ucwaningo olunzulu ngesu lokusetshenziswa kwesathaya emculweni kaMaskandi nomthelela ekuphilisaneni kwabantu, an African Indigenous Knowledge Systems cross-disciplinary study of ethnomusicology, sociolinguistics and heritage studies.
Amongst the first doctoral qualifications that Wits University conferred 92 years ago was a DPhil to Professor Otto Christian Jensen, on 5 April 1930, for his thesis titled The Unity of Good.
Jensen served as the Acting Head of the Philosophy Department at Wits in 1930 and had a successful academic career during which he published in internationally respected journals. His works comprise four journal articles on metaethics (1934, 1936, 1942, and 1966), two monographs on applied logic (1954 and 1957) and one journal article on aesthetics (1953). Meta ethics is an area of Philosophy that explores the nature of ethical terms and concepts and the underlying assumptions and commitments behind moral theories.
Unfortunately, no copy of Jensen's DPhil exists for interrogation today. The Unity of Good manuscript was likely destroyed in the 1931 fire that gutted Central Block, the University's first building, which housed the library on the top floor.
"The idea of the unity of the good often refers to ideas about the nature of value discussed by Plato and Aristotle, two philosophers from the ancient Mediterranean, whose work European and Islamic philosophers have taken as foundational to their traditions," says Wits Professor of Philosophy, Lucy Allais. "The thesis of the unity of the good holds that there is something significantly common in the way in which all good things are good, and that the good is the ultimate reason for all our undertakings. It is difficult to state the idea further without going deep into Plato's scholarship.
Despite the loss of The Unity of Good manuscript, Jensen's The Nature of Legal Argument was published in 1957 and this work remains available in Wits' libraries. Sixty-five years later, this research on applied logic and legal argumentation continues to be cited across disciplines, including in law, philosophy, psychology, and computer science.
Wits still has philosophers working on topics in moral philosophy from the Platonic tradition, as well as other traditions, including African approaches to value. Wits also offers a Master's degree in Applied Ethics for Professionals (which does not require a background in philosophy), for those who want to think about foundational questions related to value, right and wrong, and how we should live our lives.
Sources:
Molatelo Pampa, Records Management Coordinator, Central Records Office, Wits University
Professor Lucy Allais, Department of Philosophy, Wits University
David Martens, retired from the Wits Philosophy Department
Tiisang Monatisa is a Communications Officer at Wits University.
This article first appeared in Curiosity, a research magazine produced by Wits Communications and the Research Office. Read more in the 14th issue, themed: #Wits100 where we celebrate a century of research excellence that has shaped today and look forward to how our next-generation researchers will impact the next 100 years.