A People's Water Charter for South Africa
- Vishwas Satgar
A social sciences course on Empire and the Crisis of Civilisation contextualises water, food and climate crises as systemic and demanding activist solutions.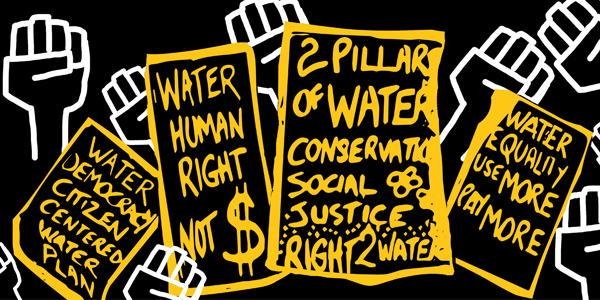 Climate science has confirmed a heating planet linked to a global system addicted to fossil fuels such as oil, gas and coal. There has been a one-degree increase in planetary temperature since before the industrial revolution (1760-1840), now fast approaching a 1.5 degree increase, based on various climate models. Climate shocks have begun registering through extreme weather changes.
South Africa's drought is happening in the context of this shift. Parts of our food system – such as the production of maize – have collapsed, resulting in an escalation of food prices (particularly of staple foods), and further exacerbating hunger.
Systemic problems require systemic solutions. This prompted my research into systemic alternatives that could advance a deep and just transition to sustain life. These alternatives include a focus on socially owned renewable energy, water sovereignty, food sovereignty pathways, and solidarity economies.
The Climate Crisis: South African and Global Democratic Eco-Socialist Alternatives (2018) profiles some of these ideas, while Climate Food, a book in progress, explores the intersection of climate shocks, food sovereignty systems, and water commoning.
The South African Food Sovereignty Campaign (SAFSC) comprises organisations engaged with the agrarian sector, climate justice, food justice, and solidarity economy. Formed out of a Right to Food conference in 2014, the SAFSC translates and substantiates a South African approach to food sovereignty.
SAFSC has taken the country's drought very seriously. Through its hunger tribunal, drought speak-outs, bread marches, food sovereignty festivals, water sovereignty dialogues, and activist schools, the campaign advances an alternative perspective on the need for a food sovereign system – one built through democratic systemic reform and driven by citizens.
Within this context, three tools systemically address water and water solutions: A People's Food Sovereignty Act; the Building People's Power for Water Sovereignty activist guide; and a process to formulate, through bottom-up dialogue, a People's Water Charter for South Africa.
These tools were shared recently with Parliament, frontline water crisis organisations, and some water-stressed communities in the Western Cape. The People's Water Charter will evolve through dialogue and will be launched at a People's Assembly in 2019.
Vishwas Satgar is an Associate Professor in International Relations at Wits. He edits the Democratic Marxism book series, for which the World Association of Political Economy gave him a Distinguished Contribution Award. Satgar has been an activist for more than three decades. He is currently co-designing a food sovereignty space for food-insecure Wits students in order to advance an eco-centric University.
Read more about the research conducted across faculties, disciplines and entities to help secure humanity's most important resource for survival: water, in the fourth issue of Wits' new research magazine, Curiosity.