Ruth Mohamed's food pack revolution
- Wits University
The expression, "sharing is caring," is the source behind Covid-19 hero, Ruth Mohamed's philanthropic values.
A legacy of giving and compassion is the foundation that Mohamed, Finance and Office Manager at the Gauteng City-Region Observatory was raised upon. When the Covid-19 pandemic hit South Africa, Mohamed could not ignore the plight of the underprivileged who were at the risk of hunger due to the lockdown.
The pandemic deepened social inequalities seeing disadvantaged communities across the country in need of basic needs such as nutritious food and groceries. This spurred Mohamed and her church members into action within two weeks of the hard lockdown last year. The team appealed to other congregants to donate non-perishable food items in an effort to assist those in need.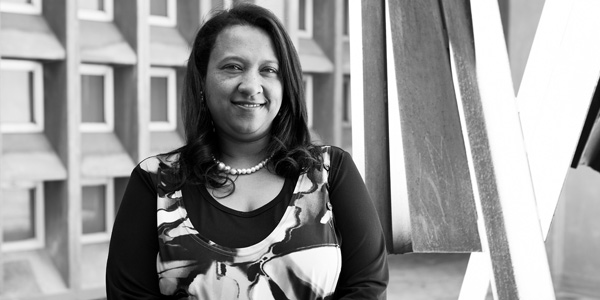 Today, the church-based community programme, run by Mohamed, which stretches from Gauteng to 825km away in Graaff-Reinet, has provided up to 753 food packs, 301 cooked meals, 61 blankets 6400 baby food pouches and 357 sandwiches to vulnerable communities during the pandemic.
For her social empathy and work in feeding communities during times of great uncertainty, her colleagues nominated her as a Wits Covid-19 Hero.
Mohamed, who grew up in the Cape Flats in Cape Town, attributes her humanitarian heart and spirit of generosity to her mother. She recalls from her childhood how her mother would always share food with members of the community.

"People in the community always came to our house for food, and my mother would never ever send them away empty handed. We would never understand and we would say; 'Mommy, but we only have for us, but you are still giving.' My mother would always say 'you don't know where that person is putting their head down tonight and I can make a difference even if it's for a moment, to get them through the night– and they would come the next day," says Mohamed.
A training on missions, which Mohamed and other members from Liberty Church attended at the beginning of 2019, also inspired the food pack initiative. The Covid-19 pandemic intersected this training serendipitously, making the team ready to serve others during the harshest lockdown periods last year.

"We could put that [training] into practice. It became who we are. It was part of our daily lives. I believe our homes should be a lighthouse on a hill in our communities. If we cannot help, we can refer," says Mohamed.
She hopes that the church community initiative, now registered as Seriti Compassion, grows beyond food donations. "We want to build up our resources in a way that we don't only provide food. This pandemic has displayed situations of people who have anxiety and are unemployed," she says.
The non-profit organisation, Seriti Compassion, attracted R170 000 in cash donations from generous individuals. The change agent says she wants donors to witness the fruits of their generosity.

Mohamed has embraced a hands-on approach, which has enabled her to maintain contact with community leaders who guide hero n how best to meet the needs of people in their respective communities. She undertakes the bulk shopping for the food programme and also distributes the food packs to people personally.

Last year, in the spirit of Christmas, her team created special food packs that contained treats such as meat, jelly and custard. Their December outreach touched the hearts of families in Diepsloot who received these special food packs. Mohamed says she wanted beneficiaries to enjoy and celebrate Christmas the way other families do.
"It cost us a bit more. Give them what you would want. I wanted to give them a nice experience…what does a Christmas look like for us? I wouldn't want to give people something that I wouldn't want to eat myself," she says.