Lessons from Wits rural campus
- Wits University
Wits Covid-19 Hero Ngoni Ngwarai, shares what it's like to work with 31 villages and humble lessons from Covid-19.
News out of KZN and Joburg in the first months of 2020 didn't sound good at all. But even as the first wave of Covid-10 started to rise, Ngoni Ngwarai, who is Head of Research Operations at the MRC/ Wits-Agincourt Unit in Bushbuckridge, knew it was time to prepare, not panic.
Being in a deep rural part of the country Ngwarai had to make sure first that those who use the research unit – up to 300 people a year - would be able to continue their work and research safely. It meant he had to make sure that PPE, masks and sanitisers that were not easy to come by in the early days of hard lockdown would get to the research facility on time.
He set up a Covid Response Team at the unit, set up a call centre for research, drew up a rotational work schedule - all of which was to keep operations running but also to ensure that everyone's personal safety would come first. He also put himself on 24-hour call. For him this was about communication and making sure there was an open channel for everyone to check in as they needed to.
"As people who are involved with research we were already reading as much as we could when news of the virus outbreak first happened in December 2019. I believe that if you know better, then you can prepare and spread facts, not fear," he says.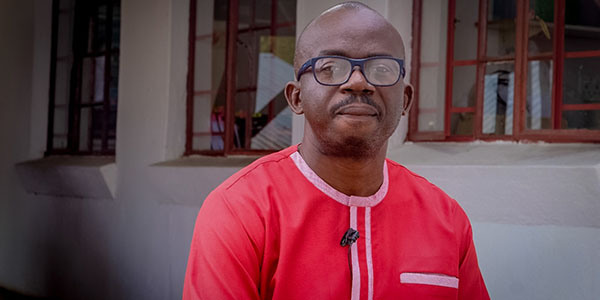 Facts help, but it's especially important the Ngwarai is a good listener and someone's whose can-do attitude puts people at ease. "As a leader you have to try to absorb many of these worries and sometimes it's just by being an attentive listener," he says.
There are 31 villages in the Unit's research area and for more than 30 years, research and data collection has taken place here. For Ngwarai, who has been based at Agincourt since 2009, it's more than field research. He says: "The community is not a commodity – you are living with and experiencing what people are going through. You also understand that the research is to understand better in order to try to make a difference in people's lives."
Because the unit remained operational, one of the studies with a focus on Covid-19 (the PHIRST-C study in partnership with the NCID) that employed 30 field staff in 2020 was able to continue with its launch date and to complete its work.
Ngwarai's efforts meant that many things could run as "old normal". He even managed to safely host a year-end celebratory function to honour long-servicing staff and community parties.
In a tough two years, Ngwarai realised that people also needed to have things to celebrate and to relax and to connect with each other again. For him personally, he gets his recharge from taking his wife and two children (aged 13 and 10) to the Kruger National Park that's almost on Agincourt's doorstep.
"You never get tired of going there because every visit is different," he says. Ngwarai who has city roots coming from Harare in Zimbabwe and then Joburg, says that the Mpumalanga posting nearly 12 years ago was the perfect 'small place with a big impact' kind of role he was looking for.
It's the quiet and the remoteness that holds a special appeal for him and he says it's why he's happy to do the long drive back to Joburg sometimes, rather than to fly, because the scenery and the solitude helps to settle things in his head and heart.
"I prefer those long drives because you can reflect on a lot."
And when he reflects on the past two years, he says the virus has taught him about the present moment mattering more especially when the future is clearly not guaranteed.
"You can have big plans but they may come to nothing overnight," he says of the humbling lesson that the virus has been for every human being. And ultimately he says knowing this meaning taking stock and then preparing.
"For me, you should always prepare – you should rather over-prepare than underprepare when you can be ready for what is coming to your front door," he says.
About Wits Covid-19 Heroes
The Wits Heroes Series celebrates staff and students who went beyond the call of duty at the onset of Covid-19 in 2020. Wits Heroes were nominated by members of the Wits community. Discover other Heroes.