Healing students humanely with heart
- Wits University
"Covid-19 reminded me of my oath", says Head of Campus Health and Wellness Centre, Anna Moloi.
For many who work in healthcare, the profession is more of a calling for those who have devoted their lives to the health of people. Over the last year, healthcare workers have been celebrated across the country for their frontline fight against Covid-19. Anna Moloi is amongst these.
Affectionately known as Sister Maggie amongst staff and students, Moloi has been recognised as a Wits Covid-19 Hero for her contribution in the fight against Covid-19 on campus. She was the go-to person on campus for staff and students who presented with Covid-19 symptoms, tested positive and needed more information about the highly infectious respiratory disease.
Knowledge and expertise on viruses and diseases was expected from Sister Maggie, given her profession. However, with Covid-19, she too had to learn more rapidly, as the novel coronavirus was a new phenomenon globally.
With information sourced from Wits infectious respiratory disease researchers, the World Health Organization, and other sources, Sister Maggie rose to the Covid-19 challenge that her role as a nurse demanded. Delivering quality healthcare services to the Wits community was now more important than ever.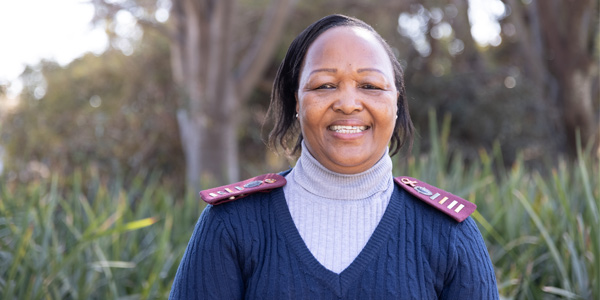 Humanity for health
Servicing staff and students, especially in 2020, was not easy says the passionate nurse. "When times were tough with the pandemic, I was always reminded of my oath," she says.
Living up to the Nurses' Pledge she made more than three decades ago, Sister Maggie again put the health of others before herself. The Nurses' Pledge and the Hippocratic Oath guide the conduct of healthcare workers, to ensure they promote the health and wellbeing of patients under their care, and uphold the ethics of the profession.
Sister Maggie joined Wits in 1995 as a primary healthcare nurse. Prior to joining Wits, she worked as a community healthcare nurse and this experience enabled her to extend great care and support students at the start of the pandemic.
"I still remember when it started last year with students coming in from China. It was so scary because everyone would call me and say, 'there is a student in our class from China, we told the student not come to class. What must we do?' For me, I had to think of that student," says Sister Maggie.
Although Covid-19 was new to her, as a trained healthcare professional, it was crucial for Moloi to mitigate the stigma that came with the pandemic. "I had to think about the student and how they were feeling," says Sister Maggie, who subsequently visited these students at their residences and homes in Johannesburg.
Despite being scared – because Campus Health and Wellness Centre (CHWC) did not have adequate personal protective equipment (PPE) at the time –Sister Maggie felt a strong sense of responsibility to visit the students coming in from China, to keep them calm.
"I had to visit them, reassure them, and give them my cell number so they can let me know if they need any assistance or are experiencing any symptoms. They were so grateful to realise that Wits cares," she says.
Managing Covid-19 on campus
"Covid-19 just came and changed everything," says Sister Maggie as she recalls how she frantically had to manage Covid-19 on campus. She had to ensure that all health protocols were in place and adhered to at CHWC, as well as ensure that the clinic was well equipped with PPE to attend to patients – although this has changed the nature of consultations.
"As a nurse, you know you cannot put a barrier between yourself and the person you are serving, but now we put barriers on. PPE means that patients cannot see your facial expressions and gauge your mood," she says.
Given her calling as a nurse, care and empathy are second nature to Sister Maggie. This made it easy for her to follow up on every positive Covid-19 case on campus as part of her duties to manage infections on campus.
According to her nominee, "Sister Maggie has personally monitored every student that has tested positive and assisted where necessary with referrals and consultations." The nominee says, after filling in the screening app by mistake one day, Sister Maggie personally called her to check if she was fine.
Beyond the call of duty
Sister Maggie is nominated as a Wits Covid-19 Hero for going beyond the call of duty.
When panic was pervasive across the country and on campus during last year's first hard lockdown, the health of students became a priority for Sister Maggie.
She ensured that the CHWC continued to offer healthcare services to student-patients remotely – even going as far as contacting clinics and hospitals in remote areas to make chronic medication available to CHWC patients.
Sister Maggie commends the commitment of her team at CHWC who worked tirelessly and continued offering healthcare services to staff and students at the height of the pandemic.
Covid-19 gave her an opportunity to learn more and expand her health knowledge, she says.