SAMS 2015 Conference
The 58th Annual Congress of the South African Mathematics Society will take place at the University of the Witwatersrand, in Johannesburg, from 4-6 November 2015.  We look forward to welcoming you  to the new home of Mathematical Sciences at Wits University.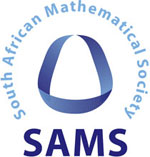 SAMS2015 Math Sci Venue at Wits.pdf
Please note that registration closes 30th September.
Payments must be made by the 10th October to be included in the conference.
Important Dates
| | |
| --- | --- |
| 31/08/2015 | Early bird registration closes |
| 30/09/2015 | Registration closes |
| 15/10/2015 | Programme uploaded |
| 04/11/2015 | Conference starts |
| 05/11/2015 | Conference dinner |
| 06/11/2015 | Conference ends |
LOC Chairperson
Prof Charis Harley charis.harley@wits.ac.za 011 717 6129
LOC Logistics Organiser
Ms Precious Shabalala precious.shabalala@wits.ac.za 011 717 6160