Wits to co-lead international research on Migration and Health
- Wits University
The research will focus on the health of migrants in the African Union and European Union corridor, one of the largest migration corridors globally.
Wits University and Uppsala University in Sweden have been named co-leads of the Cluster of Excellence in Migration and Health (CEMH), a new research area under a partnership by the African Research Universities Alliance (ARUA) and The Guild of European Research-Intensive Universities (The Guild). The Migration and Health research cluster is one of 17 research clusters announced at a recent summit attended by the Vice-Chancellors and Presidents of ARUA and The Guild.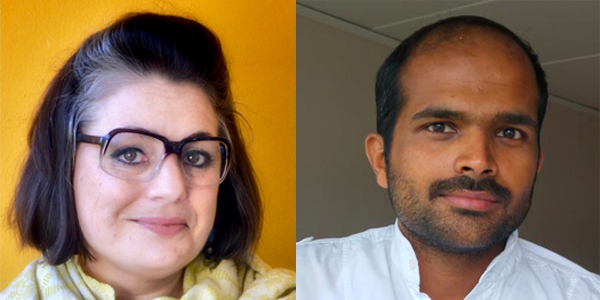 Wits' lead researcher Professor Jo Vearey, Director of the African Centre for Migration and Society (ACMS), says the CEMH will address a gap in the research and solutions developed to respond to the health issues and risks associated with the movement of people. Vearey will drive this alongside the European co-lead Soorej Jose Puthoopparambil from the Department of Women's and Children's Health at Uppsala.
Migration is increasingly recognised as a key determinant of health and wellbeing but evidence-informed policy and programme responses to address migration and health (MH) remain limited.
The AU-EU corridor includes countries in Africa, Europe and the Eastern Mediterranean and "this corridor is associated with multiple health concerns determined by a range of structural and social factors that are experienced differently by diverse migrant groups and the communities through which they move, live and work," says Vearey.
One of the strategic and scientific problems is that existing migration and health research tends to explore the AU and EU contexts separately, often focusing on individual countries; the AU-EU corridor is rarely researched as a continuum.
As such, the CEMH will develop collaborative research to generate evidence-informed, cross-country policy approaches to support good health for migrants and migration-impacted communities along the AU-EU migration corridor. Ultimately, this will support efforts to achieve Universal Health Coverage.
Vearey stresses that "no one country, region, sector, discipline, or research method can explore, understand, and address the complex migration health challenges across the countries located along the AU-EU corridor. Focusing on health challenges in the place of origin or destination alone, or focusing on a single determinant of health, leads to short lived suboptimal 'solutions'."
Working collaboratively, the researchers aim to tackle this challenge and also contribute to capacity building by building the next generation of researchers in this area. The co-leads will work with researchers from the ARUA, a network of 16 research intensive universities across 10 African countries, and 21 research intensive universities Europe under The Guild.
Wits leads the ARUA Centre of Excellence (CoE) in Migration and Mobility and co-leads the new Cluster of Excellence in Migration and Health by ARUA and The Guild that aligns with the CoE.
About the Africa-Europe Clusters of Research Excellence (CoRE)
These new Africa-Europe Clusters of Research Excellence (CoRE) bring together distinguished researchers from universities and research institutes across both continents, from ARUA, The Guild and beyond the two networks. Each addresses a key societal challenge, framed by the Global Gateway's AU-EU Innovation Agenda, in the context of local perspectives to ensure maximum scientific and societal impact.
The Clusters are formed in the context of a clear and unequivocal support in the R&I sector, in Europe and Africa, to develop science collaboration equitably and sustainably, and the urgent demand to funders like the European Union to develop a more integrated approach that focuses on excellence and capacity-building. To this end, the Clusters are aimed to open up new dialogues with policy-makers and funders in both continents and beyond, to identify ground-breaking solutions and create opportunities for investment in societal transformation.
The Africa-Europe CoRE, led by ARUA and The Guild, address head-on the inequity that has characterised research in relation to Africa, to the detriment of global science. In particular, they are distinguished by:
Equity, as a precondition for producing outstanding research with maximum societal impact.

A commitment to societal transformation, as each Cluster focuses on acute societal needs that require the urgent focus of research and innovation.

Inclusiveness, as the Clusters bring together researchers from universities and research institutes from across Europe and Africa, far beyond ARUA and The Guild.

Long-term commitment from researchers, underwritten by long-term institutional support.

Commitment to transforming Africa's capacity for knowledge production, with a particular focus on young researchers (including Masters and PhD students), ensuring they are embedded in global scientific networks, and giving them the best possible opportunities to contribute to global science in Africa.

Commitment to capacity-building in high-level research infrastructures open to all who need it, and to seek a coalition of funders to achieve this aim.
The Africa-Europe CoRE will thus develop new research paradigms and transform our joint capacities to overcome major health challenges, address climate change, strengthen our technological transformations, and sustain our societies facing conflict and change. They will help ensure that a common research agenda is at the heart of the African Union's Africa 2063 strategy which envisages Africa's transformation to a knowledge society. The Clusters also strengthen the capacity of research and innovation to make a major contribution to each priority of the European Union's Global Gateway.
Ernest Aryeetey, Secretary-General of ARUA said: "The prevailing obstacles to effective and equitable partnerships between African and European researchers will diminish in significance as the Africa-Europe Clusters of Excellence do what they are expected to do. The Clusters have been developed on the basis of trust and shared values between African and European researchers, and this is going to be the reason for their success in the years ahead. I am very optimistic that we will see a significant improvement in the quality of research and in the number of high-quality and impactful graduate students coming out of our universities."
Jan Palmowski, Secretary-General of The Guild said: "The Leaders of the African Union and the European Union have identified research and education as a key part of the strategic relationship between both continents. The Africa-Europe Clusters of Research Excellence will make a major contribution to this vision becoming a reality. We hope they will act as an inspiration to other researchers and institutions, just as they inspired our researchers, to address our pressing societal challenges collaboratively and equitably, in a deeply unequal world."