Africa is getting hotter
- Marcia Zali
Continued extreme heat exposure is affecting the health of vulnerable groups in communities.
With extreme heat conditions increasing because of climate change, Wits scientists have been amongst the experts who have been sounding the alarm on the sometimes deadly impact of heat exposure on humans.
According to the Intergovernmental Panel on Climate Change (IPCC), health is one of the areas on which increasing temperatures in Africa will impact. Mortality and morbidity (death and disease) will increase with further global warming of above two degrees Celsius, which will also increase the distribution of vector-borne diseases, mostly in west, east and southern Africa. Vector-borne diseases are infections transmitted by the bite of infected arthropod species, such as mosquitoes and ticks.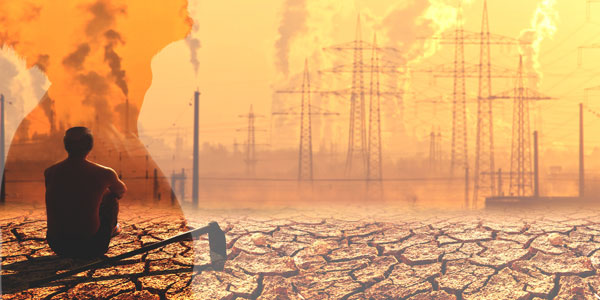 High-risk humans
While the impact of the high ambient temperatures has, over the years, been highlighted as an environmental crisis, there has also been growing concern over how human lives have been affected by the hot weather conditions.
Although all humans living in regions in Africa have experienced heat waves, some have had life-threatening reactions that are suspected to have been triggered or exacerbated by the heat. These vulnerable groups include those on chronic medication, people with cardiovascular disease, pregnant women, the elderly, infants, people with disabilities, and outdoor workers.
Research Professor at the Wits Reproductive Health and HIV Institute (Wits RHI), Matthew Chersich, says that scientists have observed concerning summer heat that has been rising over the years, particularly in low-to-mid-latitude regions, places with humidity-enhanced heat stress, and regions that experienced extreme dry heat with temperatures of up to 40 degrees Celsius or more.
Human beings operate in a specific thermal niche, Chersich says, with a set of physiological thresholds – or hard biophysiological limits – that correspond to thermal comfort, heat stress, organ system compromise, and death.
"Deadly heat arises when conditions of air temperature and humidity surpass the physiological threshold for human adaptability. Core body temperatures can reach lethal levels under sustained periods of apparent temperatures of 35°C or more," explains Chersich.
The hardest hit by heat
Due to these temperatures, excess deaths and hospitalisations have increased over the years, with the Institute for Security Studies (ISS) reporting that while African statistics in heat emergencies are scarce, and only eight out of the 196 events that were reported globally came from the continent.
South Africa officially reported 11 deaths related to severe heat but researchers studying excess deaths through temperature correlations found very high mortality burden associated with warmer weather.
"Excess deaths during extreme heat events occur predominantly in older individuals and are mostly related to the cardiac and respiratory systems," says Chersich. "Higher temperatures, especially marked heat fluxes, increase asthma, pneumonia episodes and pneumonia-related mortality, and may compound the impact of air pollution."
Less severe heat-exposure outcomes – such as lethargy, headaches, rashes, and cramps – negatively affect children in school and play environments. Under extreme heat conditions, hospitalisations and trauma centre visits increase for fluid replacement, renal failure, urinary tract infections, septicaemia, general heat stroke, as well as unintentional injuries.
A hot topic for awareness
Dr Albert Manyuchi in the Global Change Institute (GCI) at Wits explains that while communities had been experiencing extreme heat conditions, and the health effects obvious in relation to diseases, the effects of heatwaves are poorly understood. Yet, despite poor understanding of the effects of heatwaves, communities have found ways to manage in those conditions.
"In Agincourt, where we assessed the current knowledge of heat health effects on human health, we found that community perceptions on heat impacts on health were mainly related to illnesses and diseases, with no understanding of mortality risk," says Manyuchi. "We also found that although healthcare workers were aware of how to manage the health-related effects from the heat, more awareness campaigns that encompass the full range of heat-health impacts are needed to reduce vulnerability, morbidity and mortality," he added.
Agincourt [Matsavana] and Acornhoek [Khenhuk] are towns in Bushbuckridge, Mpumalanga, and home to the Wits Rural Campus where more than 30 surrounding villages and 21 000 households comprising some 120 000 individuals have participated in public health and health transitions research since the late 1980s.
Dearth of heat-health data
A study by Manyuchi and Chersich, et al, in 2022, on extreme heat events, high ambient temperatures and human morbidity and mortality in Africa, found that there is an urgent need to develop heat-health plans and to implement interventions in Africa.
Manyuchi says their systematic review found gaps in early warning systems and that community communication needs to be more accessible and the language understandable.
"Africa is not prepared to adequately deal with the rising temperatures that we are going to face in the future. The weaknesses in health systems mean they are not able to respond to climate-related crises adequately. Observation systems need to be in place and consistent capturing of data needs to be done," says Manyuchi.
Plan for heat waves
Chersich says that although strides are slowly being made to prioritise health in addressing climate change, many underlying health and social systems need to change. Furthermore, the rapid rate at which weather systems are changing has also contributed to the lack of preparedness in African countries.
According to him, a more targeted approach, where a package of selected interventions is implemented, may be a more effective option than trying to improve the overall health system, and more attractive for policy makers and funding agencies.
"Preparing for heat waves is an important first step. This involves creating national or regional early warning and information systems, heat wave plans and guidelines, and raising public awareness through campaigns," says Chersich.
"Key actions from the health sector include providing dedicated public cooling shelters, securing the availability of clean water and simple water purification systems in low-income settings, surveillance of heat-related diseases, outreach to vulnerable populations, and extended hours for public pools or other water bodies."
Read more on this research: Extreme heat events, high ambient temperatures and human morbidity and mortality in Africa: A systematic review
Marcia Zali is a freelance writer.
This article first appeared in Curiosity, a research magazine produced by Wits Communications and the Office of the Deputy Vice-Chancellor: Research and Innovation.
Read more in the 15th issue, themed: #Energy. We explore energy research into finding solutions for SA's energy crisis, illuminate energy needs of people with disabilities, address the energy and digital divide in an unequal society, and investigate the origins of fire control.