Living in food insecure households associated with poor mental health – SA study
- Wits University
To ensure adequate food, one in five South African households revealed that they had to send someone to beg for food.
This and other perceived socially unacceptable coping strategies may consequently affect mental wellbeing, according to a paper by the DSI-NRF Centre of Excellence in Human Development (CoE Human) at Wits University, titled Food insecurity and coping strategies, and their association with anxiety and depression: a nationally representative South African survey.
The study was published in the journal Public Health Nutrition. Read the research nugget here.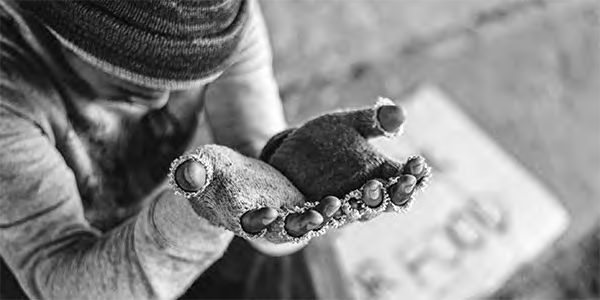 While food insecurity is well documented in South Africa, the impact of the various coping strategies on mental health has not been adequately studied.
"Food insecurity remains a major health concern in South Africa and poorer households are always disproportionately affected," says lead author Dr Siphiwe Dlamini.
Over a fifth of the households surveyed begged for food
The coping strategies used by food insecure South Africans ranged from relying on less preferred and less expensive foods, to sending household members to beg for food.
The findings suggest that begging for food may be the most harmful coping strategy and is linked with the highest risk for anxiety and depression.
The Wits researchers used the Coping Strategies Index questionnaire to assess the extent to which South African households use harmful coping strategies when faced with food insecurity.
While sending household members to beg for food was the least common strategy, it was used by almost 21% of the households. "This was a surprising finding, because begging for food isn't socially acceptable," says Dlamini.
Food insecure households risk anxiety and depression
The study assessed the risk of impaired mental health among household respondents using the GAD-7 and PHQ-9 questionnaires.
"The findings demonstrated that living in a food insecure household was associated with a higher risk of anxiety and depression. This confirms what has been suggested by several studies (such as the NIDS-CRAM survey), particularly during Covid-19, that an increase in food insecurity and depressive symptoms may be related," says Dlamini.
The study also showed how food security varied by province, race, income, and education. The Eastern Cape showed highest levels of food insecurity (32%). The most affected were those who were uneducated, unemployed, and received a low monthly income. Food insecurity was much more common among Coloured (24%) and Black (23%), compared to White (5%) and Asian (4%) ethnic groups.
"These large differences in food insecurity rates have been attributed to former apartheid regime policies that led to racial discrimination, geographic segregation, and other unsustainable settlement patterns," notes Dlamini.
Study coincides with SA's proposed public measures to tackle poverty
"The release of the report is timely and coincides with President Ramaphosa's commitment to prioritise solutions that address the issues of unemployment, poverty and inequality," says Dlamini.
This commitment was contained in the President's State of the Nation address in 2022, which stated that several fundamental reforms would be aimed at economic growth to assist in combatting unemployment and food insecurity.
"Given our new findings, food insecurity and related coping strategies should be considered as risk factors for impaired mental health. The proposed public measures to reduce high rates of food insecurity and unemployment may assist households in choosing less harmful coping strategies and ultimately improve the mental health quality of South Africans," says Dlamini.