A lifetime dedicated to vaccines saving lives
- Wits University
Shabir Madhi, Professor of Vaccinology and Dean of the Faculty of Health Sciences at Wits won the 2020/21 NSTF-South32 Lifetime Award.
It is a cold Wednesday morning as Shabir Madhi makes his way through the boom gates of the Chris Hani Baragwanath Academic Hospital in Soweto, Johannesburg. To first-time entrants, the world's third biggest hospital presents a frustrating labyrinth of dead ends and wrong turns. Madhi, however, having made the same journey each day for more than 25 years, navigates the roads with ease. Just a short drive from the Clinic Road entrance is the home of the Wits Vaccines and Infectious Diseases Analytics Research Unit (Wits-VIDA), where South Africa and Africa's first Covid-19 vaccine trials (Oxford/AstraZeneca and Novavax Covid-19 vaccine) took place.
On first inspection, one could be forgiven for thinking that the tall, stark building – visible from any vantage point in the hospital precinct – would be best suited as the backdrop for a dystopian movie. However, appearances can be deceiving, as one soon learns when engaging with Madhi. As the Director of Wits-VIDA, in addition to his role as Dean of the Faculty of Health Sciences and Professor of Vaccinology at Wits University, Madhi wears multiple hats with a rare mix of idealism and pragmatism.
A National Research Foundation A-rated scientist and a paediatrician, Madhi's research has focused on the epidemiology and clinical development of vaccines against pneumonia and diarrhoeal disease, vaccines for pregnant women to protect the mother and her offspring. These studies have informed World Health Organization recommendations on the use of the lifesaving pneumococcal conjugate vaccine and rotavirus vaccine in children, and flu vaccination of pregnant women.
In 2020, the focus of Madhi's research necessarily pivoted to Covid-19 vaccines. Never one to shy away from controversy, Madhi has been an outspoken, articulate and ardent advocate of Covid-19 vaccination, as well as for increased access to these and other vaccines in Africa. This is likely why, in quiet deference to his scientific and research prowess, colleagues and staff alike refer to him as 'Prof'.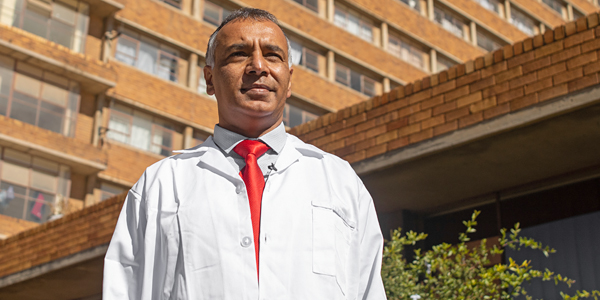 His demeanour, although reserved, is passionate when it comes to his work. Wits-VIDA days are crammed with two-hour long clinical trial meetings, alternating between Covid-19 and maternal/paediatric studies, followed by updates from study coordinators and medical officers. Afternoons are set aside for surveillance and Covid-19 studies, in between conversations with students and management.
Since taking on the role of Dean of the Wits Faculty of Health Sciences 18 months ago, Madhi has had to relinquish some of the time spent at Wits-VIDA. Although not as dynamic as the previous role, the deanship has afforded him the opportunity to influence change in a new way. Part of his strategic vision includes curriculum reform and establishing a Wits Infectious Diseases and Oncology Research Institute.
On accepting his NSTF South-32Lifetime Achievement Award, Madhi said that the Covid-19 vaccines had saved an estimated 20 million lives. He dedicated his award to the 300 000 South Africans who lost their lives to Covid-19, partly due to the stymied national vaccine rollout programme, and to the estimated thirteen million people worldwide who succumbed to this now vaccine-preventable disease.
In 2021, Madhi received the South African Medical Research Council Platinum Medal Lifetime Achievement Award, and the Academy of Sciences South Africa Science-for-Society Gold Medal. He serves on multiple international advisory committees, including at the World Health Organization. He was Executive Director of the National Institute for Communicable Diseases from 2011 to 2017.