Same-sexuality past and present
- Shaun Smillie
The notion that homosexuality is 'unAfrican' is totally false. People have engaged in same-sex relationships for centuries.
There is a misconception that same-sex relationships and gender fluidity is new to Africa and that it is an evil practice that sneaked in with colonialism. But the notion that homosexuality is 'unAfrican' is totally false, says Keval Harie, Director of the GALA Queer Archive, who stresses that gender fluidity stretches way back to the indigenous peoples of Africa.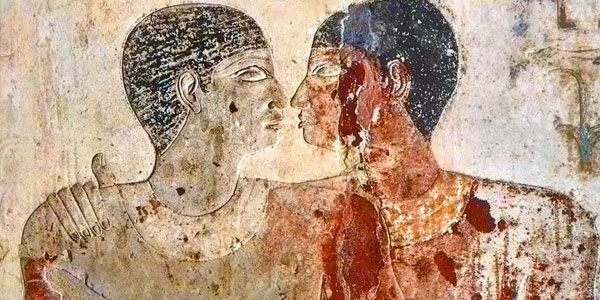 Khnumhotep and Niankhkhnum. © Jon Bodsworth, The Egypt Archive
Evidence of this can be seen in San paintings, says Harie, and there are hints of same-sex liaisons on ancient Egyptian tombs. Across the Mediterranean, it was the ancient Greeks who first documented same-sex relationships. It was only when the Roman Empire began transitioning to Christianity that same-sexuality became taboo.
Today religion is still often a force against gay rights. "When it comes to Christianity, you still feel that stigma," says Dr Nolwazi Mkhwanazi, a medical anthropologist formerly from the Wits Institute for Social and Economic Research. She adds that religious leaders often fuel homophobic and anti-queer sentiment.
Times have changed considerably since the Roman era and worldwide in the 21st Century there is increasingly recognition of the rights of the LGBTQIA+ community – legally, at least.
Same-sex legalities in the 21st Century
In September 2021, another country joined the revolution that began two decades ago – Switzerland voted overwhelmingly in a referendum in favour of allowing same-sex couples to marry and to adopt children. Weeks earlier, the Mexican state of Sonora had approved same-sex marriages. Switzerland's inclusion brings to 29 the number of countries where same-sex marriages are now legal.
This global list began gathering momentum in April 2001 when a lesbian and three gay couples exchanged vows in an Amsterdam City Hall on the day that the Netherlands legalised same-sex marriages. And while SA was fifth on the list to ratify same-sex marriages, the country was the first in the world to prohibit discrimination based on sexual orientation in SA's new democratic Constitution, on 8 May 1996.
Legal but persecuted
The revolution may be forging ahead, but resistance to gay rights persists. In March 2021 the Vatican ruled that priests would not be allowed to bless same-sex unions. And even in SA – the shining example of LGBTQIA+ rights on the continent – there is a dark side of gay hate crimes and a growing number of killings. In 2021 there have been 16 known LGBTQIA+ murders, and most have been black lesbians and transsexuals.
Harie calls the killings an illegal failure of the criminal justice system where killers often walk free to commit crimes again. "It particularly fails those who don't have access to resources, who can't really afford lawyers, but have to rely on the state for justice," says Harie.
A national task team set up by the Department of Justice and Constitutional Development to coordinate the various government offices and private organisations to deal with these hate crimes has fallen by the wayside, according to Harie.
Mkhwanazi concurs – time and time again she sees gay hate crimes get bogged down in the courts. "And I don't know what it is – is it corruption? The patriarchal society in which we live? It needs to be looked at, because as people we should all be treated the same."
Future fluidity
Hari says, "We need leaders to speak out. Things have changed remarkably from where we were 25 years ago, but the hard work still remains. We need to be engaging with communities who are still very deeply conservative and we need to engage with religious leaders to tell them to stop spreading hate."
Shaun Smillie is a freelance writer.
This article first appeared in Curiosity, a research magazine produced by Wits Communications and the Research Office.
Read more in the 13th issue, themed: #Gender. We feature research across disciplines that relates to gender, feminism, masculinity, sex, sexual identity and sexual health.