French National Order of Merit awarded to Professor Helen Rees
- Wits RHI
This accolade recognises her outstanding medical career and commitment to improving global health with a focus on public health in Africa.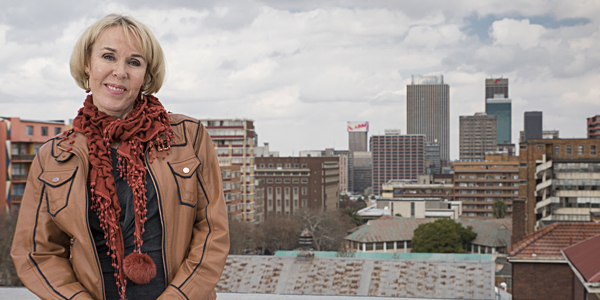 Professor Helen Rees, Executive Director of the Wits Reproductive Health and HIV Institute (Wits RHI), has been awarded the prestigious L'ordre national du Mérite (National Order of Merit) by the President of the French Republic Emmanuel Macron, in recognition of her groundbreaking and outstanding medical career.
In February 2022, she received notice of the honour from the French Ambassador to the Republic of South Africa Aurélien Lechevallier.
The National Order of Merit is a French order of merit that was founded in 1963 by President Charles de Gaulle and is the second national Order after the Legion of Honour. Its purpose is to reward "distinguished merit".
Rees is the Founder and Executive Director of Wits RHI, the largest research Institute at Wits University with over 2 000 staff members. She is internationally recognised as an award-winning health practitioner who has dedicated her professional career to improving global health with a focus on public health in Africa.
Over the years Rees has received numerous national and international awards for her contribution to science and to the South African, African and global health sectors. She is an Officer of the British Empire awarded for her contribution to global health and received the Order of the Baobab, one of South Africa's highest honours, for her contribution to the health of women and children.
Rees's global reputation has meant that many international global health organisations have recruited her to serve on and/or chair international scientific committees and Boards.
She Chairs the Board of the South African Health Products Regulatory Authority and also Chairs the World Health Organization's AFRO Region Immunization Technical Advisory Group.
She has extensive involvement in national, regional and global response efforts to Covid-19 including the development of Covid-19 vaccines, their potential rollout and utilization.
She is a member of the South African Ministerial Advisory Committee on Covid-19 and a member of the South African Ministerial Advisory Committee on Covid-19 vaccines. Rees is involved with the oversight of the COVAX facility that GAVI, CEPI and WHO are jointly driving.
She is a member of the COVAX committee on Covid-19 maternal immunization and a member of the WHO IHR Emergency Committee on Covid-19, a member of the WHO Expert Committee on Covid-19 vaccines, and a member of WHO's Scientific and Technical Advisory Group on Infectious Hazards.
Rees Chairs the WHO's International Health Regulation Polio Emergency Committee and Co-Chairs the WHO SAGE Working Group on Ebola Vaccines. She is a member of the Global Alliance for Vaccines and Immunization Board and chairs the Gavi Programme and Policy Committee. She is a member of the Coalition for Epidemic Preparedness and Innovation Board and chairs the CEPI Scientific Advisory Committee.
Rees is honoured to receive this award from the French Government and acknowledges that this personal recognition reflects the work of many committed and talented colleagues.