Wits humanities scholar a Falling Walls winner
- Wits University
Professor Dilip Menon's transnationalism research earns him prestigious Falling Walls Award.
Professor Dilip Menon, Director of the Centre for Indian Studies in Africa at Wits University, has won the prestigious international Falling Walls Award for his transnationalism research.
Menon has been selected in the Social Sciences and Humanities category in the 2021 Falling Walls Science Breakthrough of the Year hosted by the Falling Walls Foundation, Berlin.
He was among 10 internationally renowned scholars who were shortlisted in this category. The Falling Walls Foundation announced the first science breakthroughs today, 15 September 2021.
Menon, who is also the Mellon Chair in Indian Studies, was honoured for his work on transnational and oceanic histories in the Global South, which he has conducted over the last decade. His research has produced two published books, Capitalisms: Towards a Global History (Oxford 2020) and the forthcoming edited volume Changing Theory: Concepts from the Global South (Routledge 2022), which will be translated into Mandarin next year.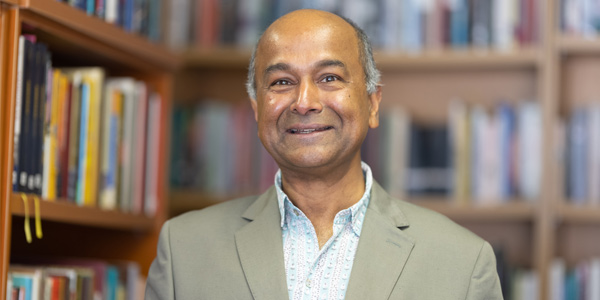 "The first theme focuses on the connections in the world moving beyond colonialism and nation states, the second argues that we need to think beyond Euro-American paradigms of social theory. We cannot write our stories with histories that come from elsewhere," he says.
Menon's work into languages and intellectual traditions seeks to create and restore a "sense of wholeness". "Thinking about the world entails that we enhance the scope of our languages to include the world at large and not only ourselves and our nations," says Menon.
The book volume, Changing Theory: Concepts from the Global South includes essays on words from 16 languages ranging from Arabic to isiZulu that argue for a theoretical vocabulary from the Global South.
Regarding his contribution, the adjudicating panel remarked that Menon deserves recognition for "Breaking the Wall to a Paracolonial Paradigm" through his research.
Menon, through his research, has created breakthroughs by producing concepts and conceptual vocabulary from the Global South and engaging with languages across Africa, Asia and Latin America.
The Falling Walls Science Breakthroughs is an initiative of the Falling Walls Foundation, Berlin. This is a science-driven creative organisation with an international and interdisciplinary focus, which seeks to connect science, business and society. It honours researchers who have impacted humanity and created breakthroughs across borders and disciplines.
Menon's anonymous nomination for the Falling Walls Prize cited his paper, Walking on Water: Globalization and History (2020) which addresses questions of globalisation, global warming, the displacement of people, and art in the era of climate change.
Menon says he is humbled to be recognised alongside leading humanities scholars.
"I am deeply honoured to be nominated and to be awarded the Falling Walls Prize. The distinguished cohort of nine other scholars are all located in universities in Europe and America. Coming from India, and located now in South Africa, and the fact that my work has achieved recognition underscores the fact that I do not need to be located in the global North is of crucial importance for me. I think the Falling Walls recognition of this fact is something that matters and touches my heart."
He will present his work to a global audience at the Falling Walls Science Summit in November alongside the nine nominees in the Social Sciences and Humanities category. These include distinguished historians Sven Beckert and Naomi Oreskes and the sociologist Michelle Lamont, all at Harvard University. The Summit is a leading forum that convenes global science leaders from academia, business, politics, the media, and civil society to debate the potential of scientific breakthroughs to solve grand challenges and shape a sustainable future.