Wits Vice-Chancellor on the purpose of education in the 21st Century – escaping Plato's cave
- Wits University
Professor Zeblon Vilakazi, Vice-Chancellor and Principal of Wits was part of an eminent panel to discuss the purpose of education in the 21st Century.
Vilakazi suggested that climate change, inequality and computation will influence the planet in future, and that education should meet these needs. But he challenged the view of 'personalised education', which suggests that education be led by society.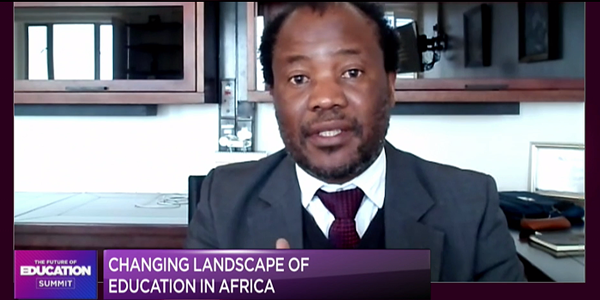 The webinar, which formed part of the Future of Education Summit 2021 (#FOE2021) took place on Thursday, 29 July 2021.
Vilakazi shared the stage with Professor Seth Kunin, Deputy Vice-Chancellor: International, Curtin University, Australia; Professor Malcolm McIver, CEO and Provost, Lancaster University, Ghana; and Professor Mamokgethi Phakeng, Vice-Chancellor and Principal, University of Cape Town.
Gugulethu Mfuphi, business show host on Kaya FM, moderated the webinar, hosted by CNBC Africa.
Ms Busi Mabuza, Chair of the Industrial Development Corporation of South Africa, delivered the keynote address.
Why higher education?
The Future of Education Summit took place within the context of exploring why we educate young people – the current thinking being that it's to meet the manpower needs of industry and the economic needs of societies. Thus, it is industry that determines the nature and focus of educational systems.
But the educational context has changed in the 21st Century. Technological advances and a global pandemic have necessitated online teaching and learning that demands renewed thinking around education.
The #FOE2021 summit took as its starting point the premise that the purpose of education is to help individuals reach their potential in whatever field brings them joy, to teach people how to learn and equip them for lifelong learning, and to develop people into citizens and workers who can contribute to society.
Ubiquitous tech
Vilakazi predicted that in the next ten to 20 years, disruption will grow exponentially.
"The planet is influenced by three exponentials – climate change; rising inequality; and the power of computation and automation," he said. "We need to make sure that our education is not stuck in Plato's cave but is relevant to societal needs."
Plato's Cave is an allegory presented by the Greek philosopher Plato in his work Republic to compare "the effect of education and the lack of it on our nature".
Vilakazi proposed that education is not only about content – "STEM or STEAM" – and that it should be more inclusive. STEM and STEAM refer to Science, Technology, Engineering, Arts, and Mathematics.
"Education is not about content, it's about inclusive learning," he said. "Interdisciplinary process is important but we need to remember the role of the specialists. Were it not for virologists and biochemists, we would not have a vaccine for Covid, for example."
The pandemic has adversely affected wellness and caused social, cultural and emotional disruption. Although technology is advancing and ubiquitous, Vilakazi emphasised that human networks remain fundamental and should not be sacrificed for cyber networks.
"Because we are social creatures and pivoting online fully will disrupt connection – but we need to be led by stakeholders," he said.
Socialised not personalised education
Vilakazi challenged the view of 'personalised education', which suggests that education be led by society.
He argued that the reality in Africa is that education is led by government and industry stakeholders, not by society, and that these problems are not unique to Africa.
He argued that students get educated because they want to be part of the future workforce – to earn an income.
"Although I acknowledge the role of personalised education, we need to remember that students do not get educated the merely for the sake of getting educated but to become part of the workforce and citizenry of the future. For that to be successful, we need to continue to get feedback from industry on jobs being created," he said.