What the world needs now
- Ufrieda Ho
As the world looks to COP26 in Glasgow, Scotland in 2021, it's clear that the time for sitting on the side-lines is over.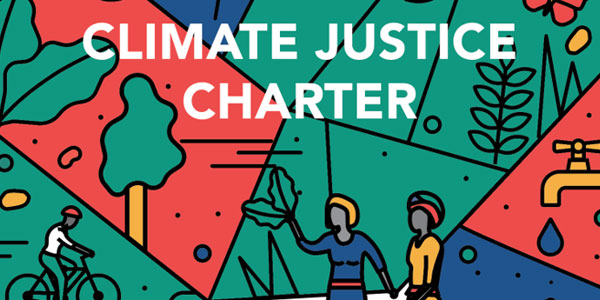 The what-next in tackling the climate crisis faces a new reckoning that focuses less on calibrating trade-offs but more on shoring up transdisciplinary enquiry and systemic transformation. It's diving deeper into how systems work to find where solutions may lie and nailing one's colours to the mast, because mass mobilisation and active citizenship is going to matter as the planet burns hotter.
The late Professor Bob Scholes* (1958-2021), former Director of the Global Change Institute at Wits, said trade-offs are often poorly conceptualised. By treating particular interventions as if they were independent of one another, solutions to curb increasing temperatures globally get missed.
Systems not silos
"Systems theory looks at how things are connected to one another. It recognises that solutions to different parts of the challenge do not necessarily have to be in opposition to each other. In understanding the interactions, you can work out where the sweet spot might lie," he said.
Getting to grips with systems means looking at the whole in all its complexity. It's not about seeing a win in one area as an inevitable loss somewhere else.
As an example, Scholes pointed to the debate that continues to cast the protection of nature and the avoidance of dangerous climate change as competing interests. He said both challenges are crucial, and each comes with the backing of international frameworks and agreements.
This may lend weight when it comes to getting high-level buy-in and commitment, and in shaping and enforcing policy, collective action and more meaningful dialogue – but there are blind spots when different agendas are pursued in silos. Inadvertently it can become a doomed battle for a top spot on a priority list, when there shouldn't have been a competition to begin with.
Swings and roundabouts
"It's not a case of either being focused on the coming of a sixth mass extinction or believing that climate change is so important that we don't have to worry about biodiversity. Once we understand both issues better, we can sift out the solutions that are not about climate positive or biodiversity negative but can achieve objectives on both sides," he said.
Practically put, Scholes said, it translates to measures like protecting existing tree resources instead of planting new trees in places where they don't belong, for instance. Or it's about improving photovoltaic and energy storage technology that pays attention to the cradle-to-grave footprint of the new technologies as well as those that they replace.
Political scientist Professor Vishwas Satgar in the Department of International Relations says that the next wave of tackling climate change must match practical measures with personal and collective commitment.
Nature's bill of rights
For Satgar, who was part of drawing up the South African Climate Justice Charter launched in August 2020, the Charter embodies commitment, actions and hope. The Charter looks at the climate change crisis with renewed verve and has contemporary framing. It is based in science but recognises that a relationship with nature is also inherently human and therefore something spiritual and social too. "We are socio-ecological beings," he says.
Among its broad ideals, the Charter holds that slavish adherence to perpetual growth and development as measures of progress or models for wellbeing fail to serve the world. It also calls for a strengthening of democracy, transformation, redistribution, and a commitment to ideals that mirror South Africa's Bill of Rights and looks to address society's deep inequalities.
"Mass-based movement is how we shift society and how we can start translating things into policy. Acting now is also how we cushion society for the climate shocks that are still to come," he says.
Lock-ins, smoke and. mirrors
Satgar warns that trade-offs in framing a response to the climate crisis are a distraction and prop up false dualities. Using the 'climate shock' of the Western Cape's Day Zero drought as an example, Satgar says that the focus points became dangerously narrow: it was either trained on the economic fallout; the politics of disaster management strategies; or the noise of climate change denialism that wrote-off the worst drought in generations simply as part of cyclical weather patterns.
These issues are more interconnected. Zooming out can offer this perspective and give insight into the underpinning challenges that run through all these separate challenges – the so-called 'lock-ins' – he says.
South Africa's key 'lock-in' is reliance on a highly carbon-intensive, coal-based economy. With this century-old dependency has come entrenched vested interest in extractive industries and the big money, corporate power, and politics that has helped prop it up, Satgar says.
Add to this, he says, is a government that has a 'lack of ambition' when it comes to everything from carbon tax targets to carbon tax enforcement for corporate polluters, and adequate responses when social and climate realities collide.
There is a continued failure to respond to the disproportionate social impact of climate shocks, such as floods and droughts, when those who have the lightest carbon footprint are hit the hardest. "If we are to solve the problem of carbon emissions, we do have to displace these lock-ins," says Satgar.
Mass action and mindful living
Emeritus Professor Jacklyn Cock in the School of Social Sciences says that the time for deep transformation is up against a ticking clock. "We need 'just transition' from coal that involves a massive redistribution of power and resources and a new relationship to nature. Nature has been treated as a sink for our waste products and a store of resources for profit," she says.
Cock says that it starts with "living more mindfully, consuming less and conserving more" but this must extend to actual membership of the organisations and campaigns, including the Climate Justice Charter Movement, which is about growing solidarity and social bonds, and translating this into mass action.
She says counter-power will come through alliances and intergenerational cohesion; building networks between the likes of environmental activists, academia, faith-based organisations, labour and grassroots communities. The alliances must be strengthened so that the 2021 follow-up to Paris COP21 in Glasgow this November is not another trade-off.
COP26 is the next annual United Nations climate change conference. COP stands for Conference of the Parties, and the summit will be attended by the countries that signed the United Nations Framework Convention on Climate Change (UNFCCC) – a treaty that came into force in 1994.
The ambitious UN meeting in 2015 ticked off as a success that it got 196 nations at the time to sign a legally binding treaty on climate change. The long-term target was to limit temperature increase to 1.5°C by the latest timeframe of mid-century. But it did not go far enough to halt or limit the burning of fossil fuels, leaving the world now short of meeting the target.
It means there's work to be done and personal responsibility to commit to collective action as a solution. "Find an entry point, whatever it is – there are many good organisations that need your membership – and get involved," says Cock.
Her point really is that sitting on the sidelines is not going to cut it because the climate crisis stands to make losers of us all.
* Professor Bob Scholes died on 28 April 2021 while on a hike in Namibia, just two months after the interview for this story. He was 63. A world-renowned scientist, Scholes was a stalwart of the Intergovernmental Panel on Climate Change (IPCC) and authored the Third, Fourth and Fifth IPCC Assessment Reports.
Ufrieda Ho is a freelance writer.
This article first appeared in Curiosity, a research magazine produced by Wits Communications and the Research Office.
Read more in the 12th issue, themed: #Solutions. We explore #WitsForGood solutions to the structural, political and socioeconomic challenges that persist in South Africa, and we are encouraged by astounding 'moonshot moments' where Witsies are advancing science, health, engineering, technology and innovation.