What adds up when teaching maths?
- Buhle Zuma
To help close the maths gap in South Africa, Wits experts believe the focus should lie on the teacher.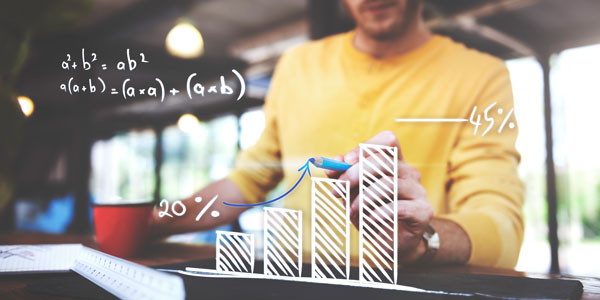 Less than a third of learners registered for the national senior certificate have core mathematics as a subject, which spells disaster for an economy in dire need of mathematics, science and technology skills.
In 2018, only 43% of the 629 141 candidates who registered for the national senior certificate had core mathematics as a subject. This dropped to 28% out of 788 717 the following year. In 2020, only 32% of the 725 034 candidates opted for core mathematics.
How do we fix this?
Experts from the Wits School of Education are firm in their belief that part of the solution lies in improving what happens in Grades 8 and 9 – the first two years of high school.
"These are critical grades that lay the foundation for concepts required for learners to understand maths in senior classes," says Craig Pournara, Associate Professor of Mathematics Education and Director of the Wits Maths Connect Secondary (WMCS) project, which focuses on research and development in secondary mathematics education.
Supporting educators who teach maths
The WMCS project developed out of the South African Research Chairs Initiative (SARChI) in Mathematics Education in the Wits School of Education. Professor Jill Adler, who held the Chair from 2010 to 2019, says changing the outcome in Grade 12 (matric) requires an intervention beginning in Grades 8 and 9.
In many schools these earlier grades are taught by less experienced or less qualified mathematics teachers, as schools allocate the more experienced teachers to the further education and training (FET) Grades 10 to 12. "This is why it is critical for interventions to focus on the lower grades," says Adler.
Adler and Pournara had many years of researching and working with schools in Gauteng before the WMCS project began in 2010. Together with teams of doctoral students and postdoctoral fellows, the project has focused on supporting mathematics teachers, and particularly those teaching Grades 8 and 9, through an integrated research and development initiative.
The Transition Maths 1 (TM1) course, the most successful component of the project's work to date, is designed to deepen teachers' mathematical knowledge and to improve their teaching practice so that there is greater learner participation and ultimately better results. The course focuses on algebra, functions, geometry and trigonometry. More than 150 teachers from about 80 schools across Gauteng have completed this course.
Monitoring is the key to success
"We tested the learners of these teachers and compared their performance with that of learners whose teachers had not done the course. The results show statistically significant gains for the learners of the teachers who completed the course," says Pournara. "This shows the potential of this course to make a difference, not just to teachers' knowledge but to their teaching and to their learners' attainment."
Demelda Pillay, Head of the Maths Department at Palmridge Extension 6 Secondary School in Katlehong, a township south-east of Johannesburg, completed TM1 in 2016. The course helped her to find different ways to improve learners' conceptions of maths. "In maths, we rarely focus on the 'why' and yet it is so essential to learners and to their appreciation of maths application in everyday life," she says.
Closing the maths teaching-learning gap
Understanding teacher knowledge, and how this can be enhanced through a professional development programme, is just one of the factors that contribute to the success of the project. A project of this nature depends on support from the stakeholders such as participating schools, the provincial education department and outside funders.
Time pressure is one of the biggest challenges in solving the maths teaching and learning crisis. "The curriculum is overloaded. Teachers don't get to spend enough time on key concepts," Pournara says. "There is always pressure to move onto the next section. Many learners have large gaps in their mathematics knowledge, but time is typically not allocated to deal with these backlogs."
Time is also critical for teachers' professional development. They need time to attend courses like the TM1 course and then they need to set aside more time to consolidate their learning from the course. The impact of the TM1 on teachers' knowledge and their learners' results is substantially linked to the additional time that teachers put in after the course.
Lack of time challenges the widespread adoption of the model. And time in school has been significantly eroded in the Covid-19 context.
"There are no quick answers to mathematics education problems, even more so now," says Adler. WMCS, like many other projects, has had to adapt over the past two years. Aspects of the course, while ideally run in real time, over time, and face to face, have been reproduced in materials by Pournara and the WMCS team, and made widely available for teachers.
Did you know?

The WMCS project has developed online resources for learners and teachers of Grade 8 to 10 mathematics.
Buhle Zuma is Senior Communications Officer for Wits University.
This article first appeared in Curiosity, a research magazine produced by Wits Communications and the Research Office.
Read more in the 12th issue, themed: #Solutions. We explore #WitsForGood solutions to the structural, political and socioeconomic challenges that persist in South Africa, and we are encouraged by astounding 'moonshot moments' where Witsies are advancing science, health, engineering, technology and innovation.