Wits tests the waters at Wakkerstroom
- Wits University
Wits scientists provide free testing of water quality in honour of International Water Day in Wakkerstroom.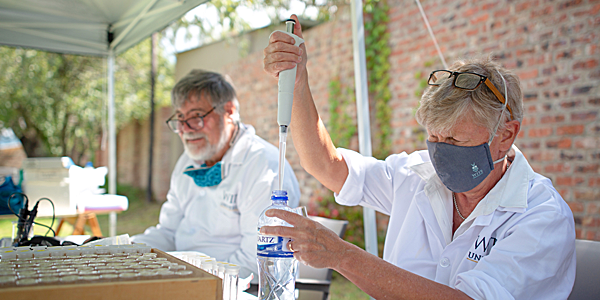 Clean drinking water in South Africa is growing ever more scarce due to the overuse of water resources, increased frequency of drought, and problems associated with the management of water infrastructure such as water treatment plants.
In the case of the town of Wakkerstroom, the Pixley Ka Seme Municipality claims that it cannot afford to fix the mismanaged sewage system. The potential for contamination of drinking water is therefore an ongoing and growing problem for the residents of the town. The leakage of polluted water into the wetland also potentially threatens its ecological functioning, and the high plant, bird and invertebrate diversity that it supports.
In recognition of International Water Day on the Monday, 22 March 2021, Professor Mary Scholes, lecturer in the School of Animal, Plant, and Environmental Sciences, and Professor Bob Scholes, Director of the Global Change and Sustainability Research Institute, headed to Wakkerstroom for the second Water Awareness Weekend – a project jointly organised by the Wakkerstroom Natural Heritage Association (WNHA) and the University of the Witwatersrand. In order to raise awareness about the importance of water in this small, upper-catchment community, WNHA and Wits provided water quality testing at an affordable price to anyone who brought in a sample. Professors Scholes and Scholes quantified pH, total dissolved salts (TDS; mg/litre), and the presence of coliform bacteria, specifically Escherichia coli, which can indicate faecal contamination and can lead to serious diseases.
Thirty eight samples in total were tested, and the results of the water quality tests were relayed to the residents of Wakkerstroom at a general feedback session and via SMS.
Outcomes
All water samples from municipal drinking water (collected from taps) had a pH of close to 7 and a low TDS (40-60 mg/l), whereas water collected from boreholes had a slightly lower pH and a higher TDS (200-400 mg/l). All water samples collected from municipal tap water were clear and contained no coliform or E. coli bacteria.
Most of the borehole water samples showed signs of coliform bacteria contamination, and two samples contained E. coli. This contamination is almost certainly due to leaking sewage reticulation, conservancy and septic tanks and French drains, from where it percolates to the groundwater at depths of 40m.
In general, the results of the water quality tests showed that despite Wakkerstroom's water management and infrastructural issues, the drinking water sourced from the upper catchment of the Utaga river, and purified and reticulated by the municipality through the town's taps is of excellent quality. The use of borehole water for human consumption is not recommended until first purified.
"Making people aware of water quality and increasing demand for water in a water scarce country, is extremely important," says Professor Mary Scholes. "Water is the most important contribution of Wakkerstroom to South Africa," says Professor Bob Scholes, and is therefore an essential location at which quality water should be regularly monitored.