New Earth Sciences Cluster
- Wits University
This new Cluster will further encourage world class research through collaboration, coordination and communications.
The Earth Science Cluster (ESC), a new Dean's Select Committee in the Research Office, has been formed following a workshop held earlier this month.
The primary aim of the ESC, situated in the Faculty of Science, is to enhance collaborations, coordination, and communications between the different Earth Sciences entities within the cluster, especially in research, innovation, postgraduate training, teaching, science engagement and public outreach.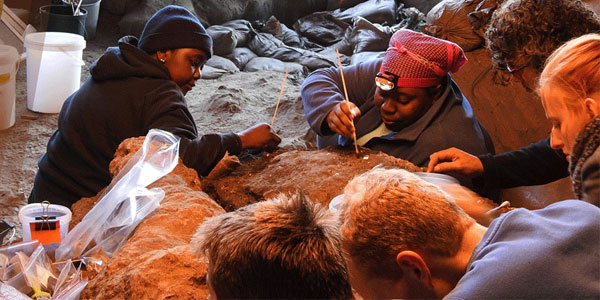 The Earth Sciences at Wits does outstanding research and is currently made up of six A-rated researchers, two SARCHI Chairs, two Wits Distinguished Professors, the PV Tobias Chair in Palaeoanthropology, and two Centres of Excellence. There are more than half a dozen research entities located in this cluster, as designated by the Research Office, and some of the researchers are amongst the most highly cited in the University if not the world.
"In these trying times brought about by the Covid-19 pandemic, and the tough financial situation that the higher education and research environment in South Africa is facing, it was felt that banding efforts together within the cluster will strengthen success across all fronts. We do not want to slip in our international research standings as we try to navigate through these difficult times ahead," says Professor Nithaya Chetty, Dean of the Faculty of Science and the new Chair of the ESC.
He will be supported by Vice-Chairs:
Professor Gillian Drennan (Head of Geosciences)
Professor Paida Mhangara (Geography, Archeology and Environmental Sciences - GAES)
Professor Marion Bamford (Director of the Evolutionary Studies Institute – ESI)
Professor Lee Berger (PV Tobias Chair in Palaeoanthropology)
Professor Amanda Esterhuysen (Origins Centre)
Dr Christine Steininger (Centre of Excellence Palaeosciences)
The Secretariate of the ESC, Dr Grant Bybee (Geosciences)
Other appointed members include Alex Schoeman (GAES, also Faculty Marketing), Jonah Choiniere (ESI), Sam Challis (Rock Art Research Institute), Francois Engelbrecht (Global Change Institute), Bernhard Zipfel (Curator), Stefan Grab (GAES), Musa Manzi (Geosciences)
Chetty adds that the areas of cooperation include research, innovation, postgraduate training, teaching, science engagement and public outreach. "The idea is to aim even higher in these endeavours where the whole effort across the cluster can be greater than the sum of the individual contributions."
Some of the short-term goals include:
setting up a seminar series,
submitting joint applications for large-scale research grants,
growing international collaborations,
establishing a shared research facility,
utilizing space more optimally especially for storage of artefacts,
archiving and digitizing various collections to help promote open collaborations,
planning for staffing for the cluster,
growing postgraduate student numbers,
co-supervising students across different disciplines,
re-conceptualizing the ideas around museums (which is a vital part of this cluster),
developing people, and
giving back to communities from whence so much of intellectual benefit has been derived over the many, many decades.
The ESC will meet quarterly over the next two years after which an assessment will be made whether it should continue with this coordinating structure or not.