Witsies receive 2020 L'Oréal-UNESCO For Women in Science Award
- Wits University
The L'Oréal-UNESCO For Women in Science Programme has recognised two female Wits scientists for their groundbreaking research.
Dr Simone Richardson and Kimberleigh Tommy are among six exceptional young women scientists awarded research grants by L'Oréal South Africa. A jury of independent experts selected the 2020 award winners from over 150 applicants.
Now in its second year, the L'Oréal-UNESCO For Women in Science South African National Young Talents programme supports young female scientists through grants that will help accelerate their research. The programme, which rewards scientific excellence, aims to improve the representation of women in scientific careers.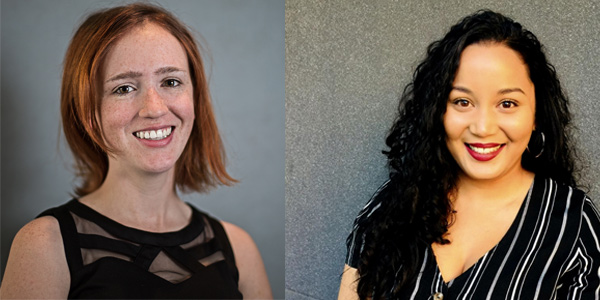 Investigating how HIV antibodies might protect against Covid-19
Richardson, a post-doctoral researcher from the National Institute for Communicable Diseases (NICD) and the Antibody Immunity Research Unit at Wits was awarded a research grant of R160 000. She is investigating how diverse antibody functions that target and eliminate infected cells can be harnessed to protect against Covid-19 in HIV infected individuals.
The focus of her research is on Fc functions, especially within the context of a high HIV burden, making it particularly relevant to the South African landscape. This study is of vital importance and holds the potential to contribute significantly to the design of effective Covid-19 vaccines, especially for high-risk groups.
She explains that the Fc field is in its infancy in South Africa but that she has successfully developed a niche with the mentorship of local and international experts in the field. "In the future, I'll still be focusing on this aspect of Covid-19, focusing on children and healthcare workers that have asymptomatic infection. Beyond that, my research into Fc effector function will impact our work on improving protection by HIV antibodies, as well as aspects of HIV vaccination," she says.
The grant will help her undertake pertinent research and support skills transfer to address key questions about other viral diseases that plague South Africa. She hopes to one day have an independent vaccine-design laboratory in South Africa to address the country's health burdens. The thought that she is benefiting society as a whole, is her daily motivation. "It is my profound honour to go to work every day and answer confusing questions that will likely help to develop important health interventions," she says.
Aside from undertaking pertinent research, Richardson is also passionate about science communication. "My overarching goal is to promote science and champion more experts to take up the baton of communication to dispel misinformation: a platform also championed by this fellowship." "It is increasingly important for the scientific voice of reason to be heard in an age where fake news prevails," she adds.
Having had the privilege of being mentored and supervised by extraordinary women in her career, she advises young women to surround themselves not only with good, solid science and supportive women, but teams with diverse genders and ethnicities. "Having a diverse collection of genders and ethnicities makes science stronger as it comes with unique perspectives."
Reading the bone diaries to understand knee injuries
Tommy, a PhD candidate at the Human Variation and Identification Research Unit in the School of Anatomical Sciences was awarded a research grant worth R80 000. Her PhD thesis, titled: A comparative study of trabecular structure of the patellofemoral joint: Evolutionary and biomechanical perspectives, seeks to establish why people suffer from knee injuries, pain and osteoarthritis. Her research investigates knee injuries and pain by looking at the trabecular or spongey bone of the patellofemoral joint (between the bottom part of your thigh and your kneecap).
Within trabecular bone there are unique patterns that reflect how our joints are loaded as we move throughout our lives. To begin to understand why this important joint is so prone to injury, disease and wear and tear, Tommy is studying the trabecular patterns in the knee joint in different species (living apes and fossil hominins from Africa and abroad). She reads their 'bone diaries' to see if they differ from those of modern humans and, if so, when the change in our family lineage originated. Ultimately her research seeks to provide insights into how well (or poorly) adapted our knees are to enable us to walk on two legs.
Tommy is currently the only South African functional morphologist looking at questions of bipedal evolution, despite the fact that South Africa is home to over 40% of all fossil hominin skeletal remains ever found. Her enthusiasm for her subject spills into her future plans. "I hope that in the future I am able to establish an interdisciplinary laboratory or research institute where questions on locomotion and evolution can be answered by teams composed of diverse researchers from a variety of fields and perspectives."
A freelance science communications specialist, Tommy this year received a string of accolades. She was listed in the 2020 Mail and Guardian's Top 200 young outstanding South Africans under 35 who are making a positive contribution to society. She is also one of the Inspiring Fifty South Africa 2020 Winners.
Her advice to aspiring young female scientists is to bold, confident and diverse. "Never let anyone tell you what you can and can't achieve or what is within or beyond your reach. Never feel like you need to change who you are to fit in. Science thrives when it is diverse, we need new voices, different perspectives, different questions and different minds. Be unapologetic about who you are in every space you choose to occupy," she says.
Gilles Antoine, Country Manager of L'Oréal South Africa said it is imperative to empower female scientists who will be instrumental in solving the great challenges facing humanity.
"Science will provide solutions for many of the unprecedented challenges that the world is currently facing. This is why L'Oréal and UNESCO have been empowering young female scientists for 22 years, more than 3,400 researchers from 118 countries have been supported and recognised."
"Women in science have the power to change the world provided they are given the means and support. This year, as we honour six emerging women scientists from across South Africa, we reaffirm our commitment to supporting young women scientists, who are at the helm of very important research projects," he said.