GCRF START grant fulfilling a vision
-
Exciting new research at Wits made possible through the GCRF START grant.
The Global Challenges Research Fund (GCRF) and START (Synchrotron Techniques for African Research and Technology) grant is a collaborative project between scientists in Africa and the UK working together on research using synchrotron science.
The latest research supported by the grant funding have been conducted by Dr Ikechukwu Anthony Achilonu, Professor Yasien Sayed, and Dr Sylvia Fanucchi from the Protein Structure-Function Research Unit (PSFRU) at Wits University. [See links below to read more about the research.]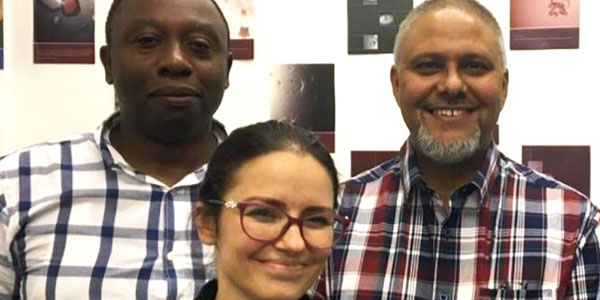 Dr Ikechukwu Anthony Achilonu (L), Prof. Yasien Sayed (R), and Dr Sylvia Fanucchi (Front) from the Protein Structure-Function Research Unit (PSFRU),




University of the Witwatersrand. ©Diamond Light Source
Achilonu says that with the GCRF START grant, Africa can create a new narrative of excellence in African science and structural biology and fulfil the vision to equip students in the latest techniques to solve our continent's health, energy and socio-economic challenges. He adds that the GCRF START grant has initiated a beautiful story of developing African scientists, especially in terms of Synchrotron Radiation Technology and Research.
"We hope to continue this highly fruitful collaboration for many years to come. Our dream is that each university in South Africa and beyond its borders will have new generation structural biology, synchrotron and drug discovery techniques taking place as a matter of course," says Achilonu.
Already, in just over two years, the START network has grown in South Africa to encompass a wide range of university groups/hubs covering a broad variety of research disciplines to address challenges across Africa, as well as globally.
"Take viruses like COVID-19, for example, we have every potential to be able to produce the targeted, appropriate vaccines and drugs needed for our unique situations. Instead of researchers from Europe and America coming to us to collect samples to take over to Europe/America to do their studies, we could be on an equal footing and able to do every stage of the research right here in Africa so that we are well prepared for outbreaks when they occur," says Achilonu.
The latest research
Read more: New generation solutions to Neglected Tropical Diseases and Nosocomial ESKAPE Infections
Read more: Fulfilling the vision! Why GCRF START means everything to me