Wits Professor wins top chemistry prize
- Wits University
Professor Charles de Koning is awarded the South African Chemistry Institute's (SACI) gold medal and gets inducted as a Fellow of SACI.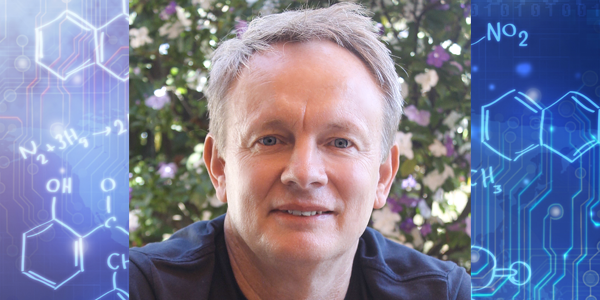 Wits Professor of organic chemistry, Charles de Koning, recently won the South African Chemistry Institute's (SACI) gold medal – the organisation's top award. He was also inducted as a Fellow of SACI.
For De Koning, however, the award came as a bit of a surprise – since he wasn't online during the announcement. As with most events this year, the SACI AGM and prizegiving took place virtually. "I had been on calls all day and decided to go cycling after work. When at some point I checked my phone, I saw that I had multiple missed calls," says De Koning about the moment that he had found out that he had won the institute's top prize.
The SACI only awards a single gold medal per year, to "a member of the Institute in good standing, whose scientific contributions in the field of chemistry or chemical technology are adjudged to be of outstanding merit". De Koning has been involved with SACI since 1992 when he returned to South Africa after completing two post-doctoral stints abroad. He has served as treasurer for the SACI Gauteng branch and organised several conferences. The gold medal itself though is only one part of the award. De Koning will also deliver the gold medal plenary lecture at the next SACI symposium, and receive a cash prize.
De Koning's research focuses on organic synthesis – organic chemistry using simple building blocks. By combining these building blocks, and developing new synthetic methods, new compounds can be assembled that have unique properties. In particular, De Koning who has built up a research profile of 136 peer-evaluated publications, and six book chapters throughout his career, is interested in the application of these new resources to human health and medicine.
In a high profile publication last year, De Koning and his team announced the discovery that cashew nut shells can be processed to extract building blocks for the manufacture of UV absorbent materials. Rather than focusing on dwindling petrochemical resources, De Koning's team was able to source these building blocks from inedible waste products.
"By utilising these methods, this research has the potential to reveal many valuable compounds from renewable sources in the world around us," says De Koning.
Beyond his research, De Koning considers his mentorship and supervision of students to be his greatest achievement – and the best part of the job. He has supervised a total of 36 PhD and 27 MSc students, many of whom have gone on to excel at careers in their own rights.
Some of his previous students, Willem van Otterlo, Edwin Mmutlane and Darren Riley, are now academics in organic chemistry at the University of Cape Town, the University of Johannesburg, and the University of Pretoria respectively. De Koning has also fostered a collaborative spirit with colleagues at two German universities, the Johannes Gutenberg-Universität Mainz and the University of Cologne, with which he has managed a student exchange programme over the past few decades.
De Koning's interest in organic chemistry may have roots in his childhood – as a child he enjoyed playing with Lego.
"Back in the day there were no kits to build cars or spaceships, you just got the box of Lego pieces and made what was in your imagination," he says. This interest in building blocks as a child, combined with a passion for organic synthesis during his undergraduate degree led to his successful career in "molecular engineering" through organic chemistry. Intrigued by the concept, De Koning went on to pursue a Masters and PhD on the subject, subsequently travelling from Boston to Hawaii before landing back in South Africa.
The SACI symposium at which De Koning will deliver his gold medal plenary lecture is set to take place in the Western Cape Province in 2021, although the dates may change given the current global Covid-19 pandemic.