Wits COVID-19 dashboard gets grant award from the IEEE
- Wits University
New features added as inter disciplinary and inter-institutional collaboration data on the pandemic grows.
Wits University's COVID-19 dashboard has received a grant award by the IEEE. The IEEE is the world's largest technical professional organisation dedicated to advancing technology. The IEEE has over 400,000 members from all continents. Through its members the IEEE promotes the development of research and technology transfer activities across 40 societies, which span a wide range of disciplines ranging from Aerospace to Vehicular technology, going through computing, electronics, industry applications and many others.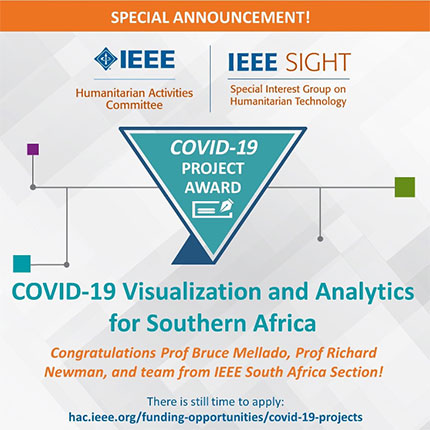 The grant award supports COVID-19-related visualisation and analytics for Southern Africa. The nature of the project is interdisciplinary, where medical data and expertise need to be combined with the wealth of methodologies and algorithms used in advanced analytics, Big Data and Data Science. Assumptions used in the project revolve around our current level of understanding of advanced analytics driven by Data Science and other disciplines. Both main-stream statistical frameworks, frequentist and Bayesian are an underlying assumption to model development. Input from the different medical, virology and custodians of static data pertaining to populations, social and medical vulnerabilities, access to medical infrastructure, prevalence of various relevant pre-existing conditions are also underlying assumptions.
"The project encapsulates methodologies in Data Science and Artificial Intelligence that effectively combine medical and other data to provide a comprehensive synthetic view of the predictive landscape." says Professor Bruce Mellado of Wits University and iThemba LABS.
The chief goal of the project supported by the IEEE grant award is to control the number of people infected, hospitalisations, ICU admissions and mortality in South Africa and other countries. These outcomes will be predicted as a function of non-pharmaceutical interventions in the post-lockdown period to allow for the economy to reactivate. Analytical and predictive tools developed by these projections will assist policy makers to enact rules and regulations with which to revive economic activity, while preventing a massive outbreak of the virus. This is essential to alleviate the economic impact of the virus in African countries, in particular to slow down the rate of job losses.
This grant award provides various forms of support, including support for the organization of monthly webinars. "These webinars will be hosted by Wits University's Joburg Centre for Software Engineering (JCSE) and will bring together panels of experts who are actively collaborating and working on the Wits COVID-19 dashboard project, including data scientists, modellers, medical experts and software engineers. The webinars will be open to all and will be advertised shortly," says Professor Barry Dwolatzky.
Wits University's COVID-19 dashboard continues to expand. A dashboard for the Gauteng Province has been put in place. Following a successful collaborative model developed with the Botswana International University of Science and Technology, three new dashboards have been launched: Nigeria, Eswatini and Namibia. This takes place in collaboration with local universities and institutions. Collaborative efforts have been established with Zimbabwe, Morocco and Senegal.
Wits' COVID-19 Dashboard
iThemba Labs