I pick their brains, I pick their pockets
- Wits University
Business leader and philanthropist, Dr Wendy Appelbaum spoke to Witsies about how to make an impact.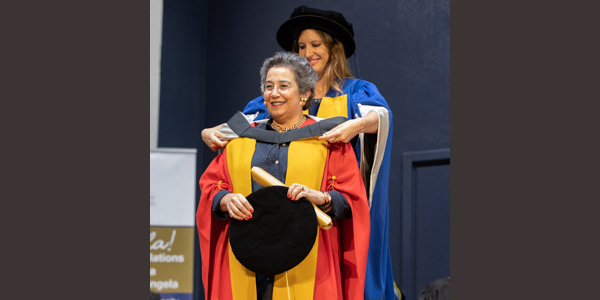 "I pick their brains, I pick their pockets and I abuse them for their time and skills. This enables me to positively impact the lives of the poorest and the most vulnerable people in our society."
These are the words of respected business leader and philanthropist, Dr Wendy Appelbaum who spoke at Wits this morning about the importance of using one's resources and position to the benefit of society.
The 2015 Forbes Businesswoman of the Year was the guest of honour at the Faculty of Health Sciences graduation ceremony where Wits awarded her an honorary doctorate in medicine. This prestigious award recognises Appelbaum's leadership in advancing economic and industrial development, uplifting health and welfare services, and her role in advancing education, culture and women empowerment. Read the citation describing her contribution to society.
Raised in an influential family by one of South Africa's leading business figures, Sir Donald Gordon, Appelbaum noted the humble beginnings of her late father. He was born to immigrant parents who could not afford to pay the fees for his career preference in science. He settled for accountancy as this would enable him to earn an income whilst studying. These humble beginnings informed the family's values and embedded philanthropy in their lives, said Appelbaum.
"Charity was always central to my father's worldview and he was convinced of the importance of putting back into the society from which he prospered."
The Donald Gordon Foundation, established in 1970, has contributed to many projects in South Africa and built legacy institutions in higher education – notably the Gordon Institute of Business Science (GIBS) and the Wits Donald Gordon Medical Centre (WDGMC).
Appelbaum has served as a member of the WDGMC board, an important facility which trains specialist and sub-specialists. She was instrumental in the establishment of the Fellowship in Gynaecological Oncology, the creation of an outpatient Women's Health Clinic, and the Fellowship in Geriatric Medicine. In recent years, Appelbaum's focus has shifted to social impact investing.
Her parting words to the graduates were to go beyond the call of duty.
"Your medicines, scalpels, devices and machines can cure people, but if you want to transform the world, the power you need is already inside each and every one of you. You have the power to imagine what better means, for your practice, for your profession and for the people you are so lucky to serve. As you go forward and succeed, never forget the contribution that Wits has made to your lives."