Cancer research wins hearts at Wits Science Slam
- Wits University
Sourav Saha, a PhD student in the School of Molecular and Cell Biology won first prize at the Wits Science Slam competition for his cancer treatment research.
Saha was one of 18 Wits postgraduate students who battled it out in Science Slam competition during National Science Week. He won the first prize worth R20 000 in cash for his breast cancer research that won the hearts of high school learners and teachers. His research with his team could bring new hope for people with untreatable breast cancer.
"Currently there is no treatment for triple negative breast cancer (TNBC) other than surgery and chemotherapy, which has severe side effects. Our compound was tested in mice and we got approximately 74%, 93% and 100% tumour reduction in late, intermediate and early stage TNBC with no side effects. We have also filed a patent in January 2019," said Saha.
Ian Mckay, science educator and coordinator of National Science Week at Wits said Saha's presentation won first prize because "he spoke from the heart explaining what his research was and how he and his team might be close to developing a cure for one of the more untreatable forms of breast cancer".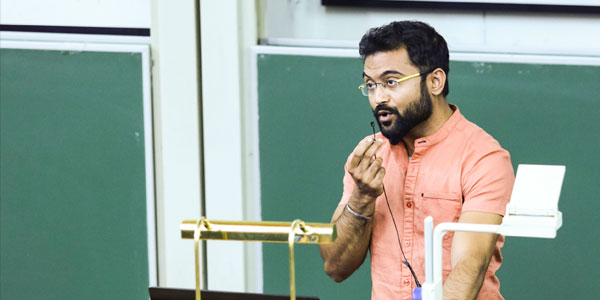 Held on 29 July to 2 August 2019 across the country, National Science Week is an initiative to exhibit and communicate awareness in science. As part of celebrating National Science Week at Wits, postgraduate students in science related fields participated in Science Slam competition where they presented their research to high school learners in an intriguing manner. Participants delivered five-minute presentations about their research to the learners and teachers who then voted for the clearest and most interesting presentation.
Ian Mckay, science educator at Wits says that the aim of Science Week at Wits and the Science Slam competition was to dispel the myth that science is a complex subject and to encourage learners to take up Science, Technology, Engineering, Mathematics and Innovation (STEMI) study fields in university.
"The aim was to show STEMI graduates working at a top University with excellent facilities clearly enjoying themselves and able to answer questions from learners who might want to enter their field of study. STEMI needs to attract a larger portion of the national budget than it currently does, and South Africa needs more technologically orientated universities. We also need more high school graduates with strong mathematics and science results who would like to enter STEMI careers," he said.
Mckay added that initiatives such as Science Slam competition makes science accessible and comprehensible to high school learners. He said that the presentations from the postgraduate students motivated the learners to pursue careers in STEMI.
"Wits provides the role models and facilities to show that focussing and on the teaching and learning of these subjects at school level can produce extremely rewarding results."
Saha said his experience at the Science Slam was enthralling. "Sharing my research with the school children was extremely fun and I did get lot of questions on the first day, which made me happy and shocked at the same time. It was great to see high school children coming up with challenging questions, which means the South African education system is headed in the right direction."