Wits African research excellence in materials, migration
- Wits University
Wits University hosts two African Research Universities Alliance (ARUA) Centres of Excellence (CoEs) in materials and migration respectively.
Wits University hosts two African Research Universities Alliance (ARUA) Centres of Excellence (CoEs) in materials and migration respectively.
Professor Lesley Cornish leads the CoE in Materials, Energy and Nanotechnology (ARUA COE MEN) and Associate Professor Jo Vearey heads up the ARUA CoE in Mobility and Migration (ARUA COE M&M).
Supported by the UK Research and Innovation (UKRI) Global Challenges Research Fund, the centres were launched jointly on 15 November 2018 at Wits University.
Excellence in Materials, Energy and Nanotechonology
At a workshop preceding the launch, partner institutions from the Universities of Ghana, Pretoria, and Nairobi explored research directions for ARUA CoE MEN. The overall theme is the development of materials and new technologies to benefit Africa – both infrastructure and human development – and to compete globally. Co-supervision of postgraduate students to enhance the potential for multi-disciplinary research is a feature of the centre, as it outreach to school learners.
Prof. Lesley Cornish, director of the ARUA CoE MEN said, "We submitted one proposal on 30 April 30th and there is another to complete by the end of July. But we went to a N8-ARUA Workshop in Ghana in May," says Prof. Lesley Cornish, director of the ARUA CoE MEN, who , and then next week, I will be going to an ACUNS [Academic Council on the United Nations System] Workshop in Stellenbosch in SDGs [Sustainable Development Goals]."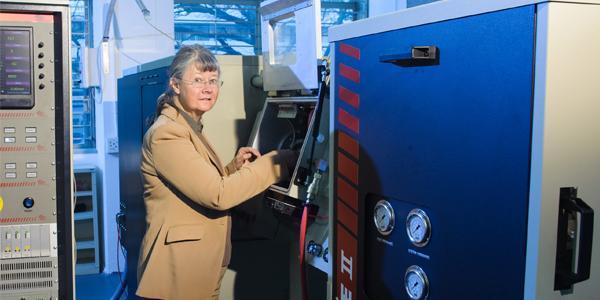 The ARUA CoE MEN enables an Africa response to Sustainable Development Goals, specifically:
Goal 3: Good Health and Well-being, with projects that are aimed at improving medical implants; Goal 4: Quality Education, by better equipping graduates; and Goals 5 and 10 respectively: Gender Equality and Reduced Inequalities, by expanding access to anyone interested in materials science.
Wits professor, Alex Quandt is deputy director of the CoE.
Making strides in Mobility and Migration
Prof. Jo Vearey is the director of the African Centre for Migration and Society at Wits. The ARUA CoE M&M invites doctoral students to participate in the Mobility and Sociality in Africa's Emerging Urban research programme. This initiative is a scholarly response to unprecedented levels of urbanisation and mobility driven by conflict, ambition, and respatialising economies. It is intended to develop African-based contributions to theories of human mobility and transforming modes of social engagement, authority, representation, and expression.
The African Research Universities Alliance
The African Research Universities Alliance (ARUA) was inaugurated in Dakar in March 2015, bringing together 16 of the region's leading universities. It is a network of universities from different countries and different historical backgrounds but with a common vision. Thirteen thematic areas for collaboration were identified at the ARUA inaugural conference in April 2017:
Climate change
Food security
Non-communicable diseases
Materials development and nanotechnology (Wits University now hosts the ARUA CoE MEN)
Energy
Water conservation
Mobility and migration (Wits University now hosts the ARUA CoE M&M)
Poverty and inequality
Unemployment and skills development
Notions of identity
Good governance
Post-conflict societies, and
Urbanisation and habitable cities.
At the inaugural ARUA conference, Prof. Adam Habib, Vice-Chancellor and Principal of Wits University and a member of the ARUA Executive Committee, said: "The Migrations and Mobility theme is a great example of a universal issue that requires research at multiple levels, and which is best addressed by cosmopolitan teams within different socio-economic, political and historical contexts. A dynamic research project in this area has already been launched through funding from the Mellon Foundation."
UKRI, ARUA, and the Sustainable Development Goals
UK Research and Innovation (UKRI) works in partnership with universities, research organisations, businesses, charities, and government to create the best possible environment for research and innovation to flourish. ARUA and UKRI joined forces to use their collective knowledge, skills and regional expertise to tackle global challenges such as extreme poverty and disease, fragile states and displacement, gender inequalities and food insecurity.
This new partnership, formally agreed in October 2018, sees ARUA and UKRI work together over the next three years to build pan Africa-UK research collaborations across all disciplines, to mobilise excellence, and forge equitable partnerships with co-creation at their heart.
This partnership is part of UKRI's ongoing efforts through the Global Challenges Research Fund to build robust research systems across developing countries. The partnership research programme has two key strands: Capacity building, for which the UKRI provides up to £8M; and research excellence, through which support is provided for for up to six joint research projects that address aspects of the SDGs.
Click here to download the ARUA and UKRI research partnership booklet.