Wits signs Memorandum of Understanding with Perot Museum
- Wits University
The MOU is part of the Museum's new focus on human origins, plans to increase research, produce traveling exhibitions, and cultivate scientific communications.
Just four months after forming an official alliance with internationally renowned paleoanthropologist Professor Lee Berger, the Perot Museum of Nature and Science has officially partnered with the University of the Witwatersrand in Johannesburg, South Africa (Wits University). A memorandum of understanding (MOU) was signed today providing the groundwork for future collaboration including research, exhibits, traveling exhibitions, and various projects in paleoanthropology, humanities and other academic areas.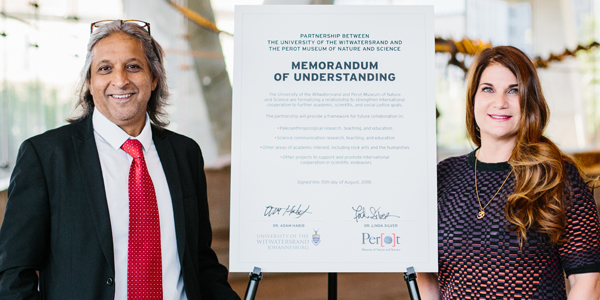 "As the Perot Museum looks to the future, we want to establish our Museum as a global center of excellence in paleoanthropology," said Dr. Linda Silver, Eugene McDermott Chief Executive Officer of the Perot Museum. "We are so fortunate to have Wits University, Professor Berger and his team as our partners, and research scientist Dr. Becca Peixotto on board to lead this important initiative. This is a remarkable opportunity to elevate our understanding of humanity and engage our community, not only in North Texas, but around the world."
The collaboration stems from the Perot Museum's new strategic focus on human origins called the Center for the Exploration of the Human Journey. With a mission to explore the human journey, communicate the science of paleoanthropology and stories surrounding humanity, and act as a catalyst for education and dialogue, the Center also focuses on supporting, curating and disseminating the dynamic research developed by Berger and his team of more than 160 scientists working around the world. Berger, who serves as the Center's Distinguished Science Advisor, has rewritten the way early human and hominin evolution is understood with his discovery of a new species of human relative, Homo naledi. Peixotto, who was named director of the Center in April, has worked with Berger since 2013 and guided the MOU to fruition.
With the goal of strengthening international scientific and academic cooperation, projects are already in place. These include the newly transformed Being Human Hall, specifically the Becoming Human Wall featuring casts of H. naledi and a virtual reality experience that gives Museum visitors a chance to travel deep into the Rising Star Cave to see where the painstaking excavations take place. The virtual reality experience is offered in English, and, starting this week, is also available in Spanish.
Future projects will include a free app called DinalediVR that is narrated, in their native languages, by six scientists from the international H. naledi research team. Three of those are South African languages, contributing to growing efforts to communicate science in local languages and highlighting the contributions of South African scientists on the team. The app, which launches in September, will be Google Cardboard compatible for Android and iOS devices, reducing economic barriers to the VR experience around the world.
"Wits University is excited to collaborate with the Perot Museum, and we look forward to bringing international scientific endeavors to the people of Texas and beyond," said Professor Adam Habib, Vice-Chancellor and Principal of Wits University. "By sharing research and programming in creative ways, we can maximize our institutions' capacity to be an international resource. This MOU helps us to strengthen academic and scientific collaboration, so that we can achieve social justice goals, based on our common humanity."
This fall additional collaborative projects between Wits University and the Perot Museum will be announced, with aims to develop traveling exhibitions, increase outreach in under-served schools around the world and cultivate enhanced communication of paleoanthropology and other social sciences.