Wits Lung Lab a breath of fresh air for public health
- Wits University
Wits pulmonologists and partners launched the Lung Laboratory Research and Intervention Centre on World Lung Cancer Day on 1 August 2018.
The 'Lung Lab' is a Wits University Centre of Respiratory Excellence in the Department of Pulmonology at Helen Joseph Hospital in Gauteng.
Wits alumna Dr Anita Graham is director of the Lung Lab. She is a specialist pulmonologist in the Division of Pulmonology, Department of Internal Medicine, School of Clinical Medicine in the Faculty of Health Sciences at Wits and Head of Pulmonology at Helen Joseph Hospital, which is a Wits teaching hospital.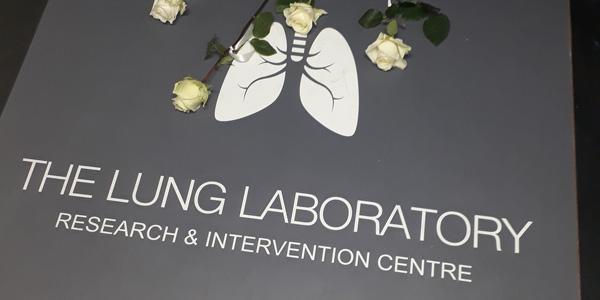 Tech use in bronchoscopy an African first
The Lung Lab is primarily a specialist, minimally invasive centre for interventional pulmonology and research. The team comprises pulmonologists, professional nurses including an endoscopy-trained nurse, a spiritual care guidance counsellor, social workers, and a researcher. A six-member palliative care team provide holistic palliative care.
"We want to provide consistent, first world diagnosis, staging, management and palliative care to the most vulnerable and at-risk community," says Graham.
The Lung Lab houses a bronchoscopy suite, which performs the endobronchial ultrasound (EBUS) for diagnosis and staging of lung cancer, as well as facilities for sonar-guided pleural and lung biopsies and pleural catheter placement.
"The cryo-probe [tech that targets and destroys diseased tissue with extreme cold] is the first of its kind to be used in Africa for bronchoscopy. Our EBUS is one of only four state-available EBUS systems in the country," says Graham.
The Lab provides state-of-the-art interventional and diagnostic techniques for a multitude of lung diseases, although the focus is on lung cancer.
"At present, there is a major shortfall in the care of our patients with lung cancer. Respiratory disease is not just about the diagnosis but long-term follow up, management and psychosocial support. For this, an entire system of healthcare workers and allied support is needed," says Graham.
Five facts about lung cancer in South Africa
Lung cancer is the leading cause of cancer deaths in males and the second leading cause in females globally
By 2030, cancers of the trachea, bronchus and lung are projected to increase to be the sixth highest ranked disease after cardiovascular diseases, HIV/AIDS, Chronic Obstructive Pulmonary Disease (COPD – a group of lung diseases that block airflow and make it difficult to breath) and lower respiratory infections
South Africa has one of the highest incidences of tuberculosis in the world (TB – a bacterial disease that affects the lungs), 60% of which are HIV co-infected.
Lung cancer is the most common non-AIDS defining cancer among HIV-positive individuals with an incidence two to four-fold higher than in HIV negative patients
South Africa is facing an epidemic of non-communicable diseases (NCDs) among ageing people living with HIV/AIDS. This population group is expected to triple by 2040 and the burden of COPD and lung cancer will increase.
Researching lung cancer in Black women
In the process of addressing respiratory health care inequity in disadvantaged communities, the Lung Lab will research the reasons behind the globally emerging pandemic of lung cancer.
"Our current research includes lung cancer in the back female South African population, HIV and TB and their potential cause and development in lung cancer and epidemiological barriers in lung cancer," says Graham.
The Lung Lab is a partnership between the University of the Witwatersrand, Helen Joseph Hospital, and the Gauteng Department of Health. It is part of a three-year project funded by an R20.25 million grant from the Bristol Myers Squibb Foundation.