Bringing comfort and closure to those who loved them
- Wits Communications
Identifying the deceased is a mammoth task for forensic specialists in South Africa.
One in 10 deaths in South Africa are due to unnatural causes with homicide and traffic accidents the most common causes of these deaths.
Even though South Africa has a robust forensic system, identifying the deceased is an overwhelming task due to the sheer number of cases forensic specialists have to deal with. In Gauteng alone, between 15 000 and 16 500 unnatural deaths occur annually; and of these, one in 10 individuals will never be identified and will eventually be buried as paupers.
"It creates a massive humanitarian problem," Professor Maryna Steyn, Biological Anthropologist, Head of the School of Anatomical Sciences and Director of the Human Variation and Identification Research Unit at Wits, said in her delivery of the Faculty of Health Sciences' bi-annual Prestigious Research Lecture Series recently.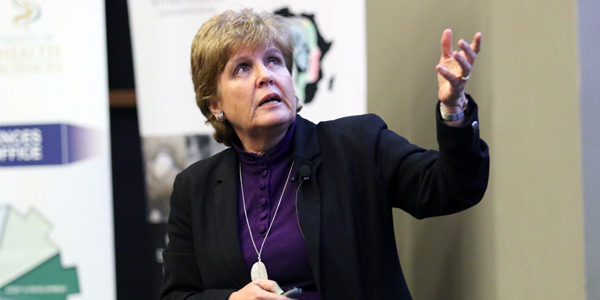 She co-presented the lecture series, titled: Mysteries from the grave: The forensic aspects of identification, with Dr Candice Hansmeyer, Wits alumna and Specialist Forensic Pathologist at the Roodepoort Medico-legal Laboratory.
Steyn said: "At our research unit, the Human Variation and Identification Research Unit at Wits, we are actively involved in case studies to assist in the medical legal system. In the past two years that we have been doing forensic case analysis we have completed roughly about 60 to 75 cases."
She said South Africa offers unique opportunities for forensic anthropologists. The country has very high crime rates; and social economic inequalities create many homeless people, it also forces people to migrate for work which takes them far away from their homes, and there are also many illegal immigrants.
This all adds to the difficulty when trying to identify the deceased as it is also hampered by the fact that South Africans are not well documented in terms of having ID documents or dental records.
"Internationally we talk about the primary identifiers that are used to identify deceased individuals: DNA, fingerprints and dental records. Unfortunately these are not available to South Africans and forensic anthropologists have to use other means," Steyn says.
She explained how forensic anthropology deals with the human skeleton and forensic medicine; and that the field is much more than only identifying human remains through age, sex, ancestry, and are often looking at trauma and pathology in order to assist a criminal investigation.
It is also about servicing the community and forensic archaeology helps to deal with cases where the remains have to be repatriated, as well as with mass graves and mass disasters.
Discussing three case studies to show how the work that she and her colleagues do in laboratories impacts on the lives of around them and how they serve the community, Steyn says their research currently focus quite a bit on skeletal identification, specifically age estimations in adult skeletons which is quite difficult; age estimation around the critical age of 18 years which is very relevant in South Africa; studies in decomposition; cranial facial identification specifically with regard to photo identification and facial aging; and then they also still dabble in a bit of archaeological remains, ancient DNA and palaeo-anthropology.
"While we do a lot of work in our laboratories, the impact that we have really is outside in the real world," Steyn concluded.
In bringing comfort, closure and dignity to the deceased and those who loved them.
About the Faculty of Health Sciences' Prestigious Research Lecture Series
Two Prestigious Research Lectures are held annually and these aim to provide an opportunity for the Faculty's top researchers to present key aspects of their work in a public forum. It is important for the researchers to share with people beyond the University and academic environment the research that is being conducted at Wits and to share some of the latest research findings; and most importantly to also highlight the impact their research has.