Wits students at CERN meet with Science Minister and UN ambassador
- Wits University
Students rub shoulders with Minister of Science and Technology and the Head of the Mission of South Africa to the United Nations in Geneva.
Wits students working at the European laboratory (CERN) in Geneva, have had two high-level visits in the last month, with meetings with both the Minister of Science and Technology and South Africa's Ambassador to the United Nations in Geneva.
The Minister of Science and Technology, Minister Mmamoloko Kubayi-Ngubane, dropped in for a visit on Tuesday, 15 May, while a group of Wits students, who are part of the SA-CERN Consortium funded by the DST, attended the Freedom Day Celebrations, which were hosted in Geneva by Nozipho Joyce Mxakato-Diseko, Head of the Mission of South Africa to the United Nations on 3 May.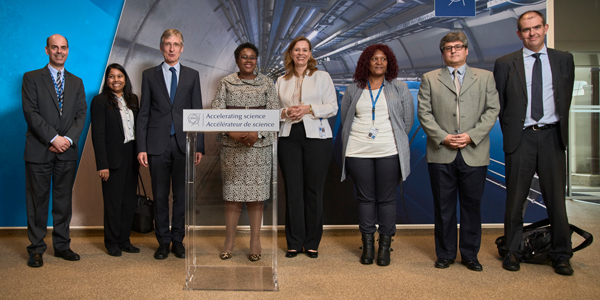 A group of Wits students, who are part of the School of Physics at the University, are currently working at the ATLAS experiment at CERN. As part of the SA CERN Consortium, they are involved in projects such as searching for new bosons, as well as the software and hardware upgrades of the ATLAS detectors.
Speaking at her visit to CERN, Minister Kubayi-Ngubane highlighted that the government participation of women in Science, Technology, Engineering and Mathematics (STEM) fields is increasing significantly. She said that the government has set aside mechanisms that would assist in further participation of women in these fields, including a fixed quota of women to receive National Research Foundation (NRF) funding, as well as different awards to women who are excelling in their scientific fields. She also highlighted that she would like to see an increase in the number of young women participating in science expos.
Minister Kubayi-Ngubane was encouraged to see the South African youth at CERN's engagement with science. There were concerns, however, about the level of science and mathematics education at school level, which significantly reduces the number of students that continue into studies of STEM subjects at University.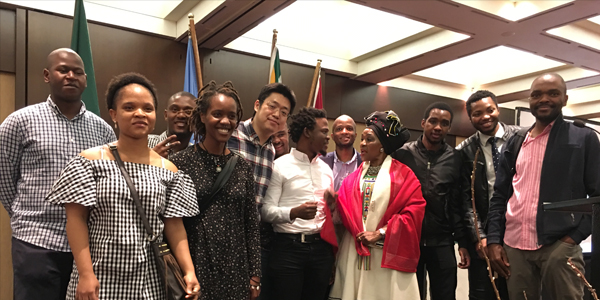 Hosting the Wits students at her Freedom Day celebrations, Mxakato-Diseko was surprised and impressed with the number of South Africans doing research at CERN, and the large span of activities that they are involved in. She invited the South African researchers to engage with various forums and activities within the space of the international organisations in Geneva to enhance South Africa's profile there.
South African students are enthusiastic about their training at CERN. "I am working with the ATLAS collaboration and searching for new bosons. Working at CERN means being exposed to new software, working with streamlined data, physics, beautiful mountains, research, atom smashing with machine learning and so much energy (pun-intended). This makes an absolutely enthralling experience!" says Onesimo Mtintsilana, who is working on her MSc and plans to pursue a PhD as well.
"The South African participation at CERN is being successful in delivering human capacity development and technology transfer, so much needed in the country." says Professor Bruce Mellado, the National Contact Physicist of South Africa at the ATLAS experiment.