Our pale blue dot
- Reshma Lakha-Singh
Q&A with Professor David Block from the Wits School of Computer Science and Applied Mathematics.
Molecular hydrogen is the most abundant molecule in the matter between stars in Space, and water helps to cool collapsing clouds and dust during the formation of stars. But is there any way to use this water to save ourselves? Do we look to the stars to save life as we know it? Will Captain Kirk or the Defenders of the Galaxy beam us up to another planet that is flowing with water?
Astronomer, Professor David Block from the Wits School of Computer Science and Applied Mathematics explains why saving the planet by casting our eyes up into the sky is not that simple.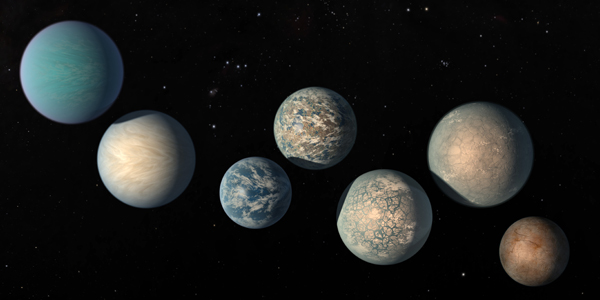 Have scientists discovered water on other planets?
The short answer is, yes! But the full answer is not that simple. While we have discovered water on Mars, the question is whether we will ever be able to have access to it. Mars as a destination is difficult for humans to reach and even more difficult to live on. Mars has polar ice caps made of frozen carbon dioxide (dry ice), and despite us having a similar climate to Mars, it is a very hostile environment with dust storms sometimes covering the entire planet. The temperatures dive well into the negatives at night and in winter. Earth's average temperature is 14°C, whilst Mars' is -63°C.
Is there any water on the moon?
Yes, in March 2010, India's lunar probe, Chandrayaan-1, discovered more than 40 permanently darkened craters near the moon's north pole that contain about 600 million metric tonnes of water-ice. A metric tonne of water corresponds with water filling a container where each side spans approximately one kilometre. A small bay or lake in South Africa which is 50 metres deep and 3.5 kilometres square would contain that approximate volume of water. It is believed that water-bearing comets, asteroids and meteoroids delivered this to the moon by crashing into it.
Have we searched any other planetary systems for water?
Scientists have discovered exoplanets, which are planets that are outside our planetary system, orbiting other stars. As at February 2018, there are 3 728 confirmed planets in 2 794 systems with 622 systems having more than one planet. This discovery has encouraged the research for extra-terrestrial life with a special interest in planets that orbit a star which is in a habitable zone, where it is possible for liquid water to exist on the surface if the atmospheric pressure is like ours.
The exciting news is that astronomers have discovered seven planets, three of which are Earth-sized, orbiting TRAPPIST-1, a red dwarf star located just under 40 light years away from the Sun. These three exoplanets orbit within a habitable zone from the dwarf star, making it possible for life to thrive.
NASA has indicated that a closer study of the seven planets suggests that some could have far more water than the oceans of Earth, in the form of atmospheric water vapour for the planets closest to their star, liquid water for others, and ice for those farthest away. This makes TRAPPIST-1 the most thoroughly known planetary system apart from our own.
Can we source this water to save Earth?
Wearing my futurist hat, yes we can use these planets as a source of water. However, we won't see this in our life-time. Earth is the only planet in our planetary system with easily-reachable water. Hence, let us protect what we have and begin our journey to save our planet. Carl Sagan called Earth the "Pale Blue Dot". We have just the right atmospheric and chemical compositions, water and temperature on the planet for life to be possible. We need to protect what we have.
David Block is a Professor in the Wits School of Computer Science and Applied Mathematics. At 19, he became a Fellow of the Royal Astronomical Society of London. At 20, the Royal Astronomical Society published his paper on relativistic astrophysics. Block has been a visiting researcher at the Australian National University, the European Southern Observatory, the California Institute of Technology, and Harvard University. The NSTF-BHP Billiton Award acknowledged him as a leading science communicator in SA. He is the only scientist in Africa whose work has twice featured on the cover of Nature.
Read more about the research conducted across faculties, disciplines and entities to help secure humanity's most important resource for survival: water, in the fourth issue of Wits' new research magazine, Curiosity.