Wits' rated researchers recognised
- Wits Communications
The Wits Research Office last night recognised 67 researchers at the University whom the National Research Foundation (NRF) has rated or re-rated.
At the awards ceremony held at the Wits Art Museum in Braamfontein on 11 April, the University also acknowledged the 14 most highly cited researchers in faculty and four top postgraduate supervisors.
Emerging young researchers comprised 17 Thuthuka grant recipients and four Friedel Sellschop awardees.
Dr Mahomed Moolla, MC and Head of Internationalisation and Strategic Partnerships at Wits acknowledged the contribution of research to "Vision 2022". This aims for a 50% postgraduate student cohort by then. Postgraduate students currently constitute 13 500 out of all Wits' 37 000 students.
Zeblon Vilakazi, Deputy Vice-Chancellor: Research, who awarded the recipients, said: "Wits remains at the forefront of guiding and leading research across the continent. Our research proves that global institutions of the south can be wellsprings of knowledge production."
Wits' rated researchers
Lyn Wadley (A1) and YevhenZelenyuk and Shabir Madhi (A2) retained their ratings while Profs. Derek Brouwer and Chris Mathew each earned A2 ratings. NRF A-rated researchers are those scholars recognised by their peers internationally as global leaders in their field.
Additionally, the NRF re-awarded 36 Wits researchers with B, C, P or Y ratings while 31 researchers were awarded ratings for the first time. These B, C, P or Y category ratings denote:
B – Internationally acclaimed researchers
C – Established researchers
P – Prestigious Awards
Y – Promising young researchers
Read the full list of names of the rated and re-rated Wits researchers.
The best postgraduate supervisors at Wits
Prof. Paul Alagidede in the Faculty Commerce, Law and Management
Prof. Ivan Hofsajer in the Faculty Engineering and the Built Environment
Prof. Saraladevi Naicker in the Faculty of Health Sciences
Prof. Edward Witowski in the Faculty of Science
The most highly cited researchers per faculty in 2016 were:
Richard Langlois and Ronald Wall in

the Faculty Commerce, Law and Management
Drs Mutiu Amosa and Diakanua Nkazi, and Prof. Sunny Iyuke in the Faculty Engineering and the Built Environment

Dr Alisha Wade and Prof. Linda Richter in the Faculty of Health Sciences

Andrew Thatcher and

Mehita Iqani, and Dr Matthew Wilhelm-Solomon in the Faculty of Humanities
Drs Deepak Kar,

Xifeng Rua, and Angela Dudley and Profs. Andrew Forbes and Bruce Mellado in the Faculty of Science.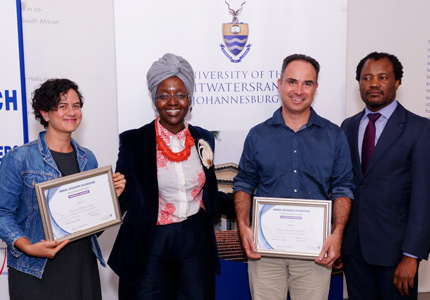 The Vice-Chancellor's Research Award made to Prof. Ebrahim Momoniat in 2016 was acknowledged.
Adam Habib, Vice-Chancellor and Principal lauded the research output despite economic and political challenges in higher education recently.
"It is truly astonishing what this University community has achieved in the past five years. It opens up the opportunity of what else is possible with the support from the state, the NRF and other agencies," said Habib. He added that Wits continues its transformation agenda, pointing out that Black students now comprise 79% of the cohort, up from 68% in 2013. Additionally, Wits allocated R45m to diversifying the academy and investing in the permanent appointment of Black scholars.
"We are defined by a single agenda: To be a transformed university that produces world class research. This is an institution that is simultaneously transforming and at the cutting edge of knowledge production in the world," he said.
Prof. Hlonipha Mokoena from the Wits Institute for Social & Economic Research (WiSER) delivered a talk, in which she referenced research as "formalised curiosity". This concept had sustained her during her tenure process at the University of Columbia.
Dr Molapho Qhobela, Chief Executive of the NRF said Wits has an important role to play in higher education. He congratulated Wits on its research: "This is a prestigious institution – do not be shy to exalt excellence."