Choreographing new ways of knowing
- Wits University
Thirteen years ago Kamogelo Molobye enrolled for Law at Rhodes but The Amazing Other Show changed the trajectory for the Wits Theatre & Performance lecturer...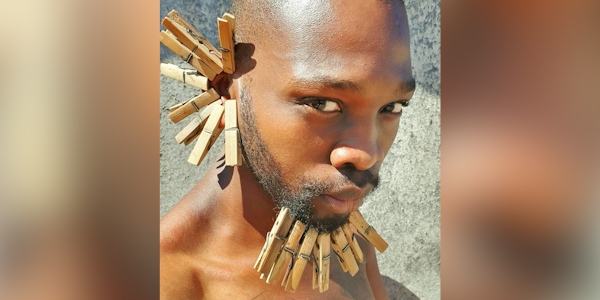 "During O-Week at Rhodes in 2010, 'The Amazing Other Show' was shown to first-years to sensitise them about the socio-cultural shifts at university and bring awareness of the maturity the space needed," says Soweto-born Molobye. "The production sparked an interest in using performance beyond entertainment value and looking at performance as a way of knowing and producing embodied knowledge systems. This resulted in my taking up the creative arts and performance in 2011."
Performance pedagogies
'The Amazing Other Show' would prove seminal in Molobye's movement towards the roles of lecturer, academic, choreographer, performer, researcher, and writer whose main intention is to challenge and develop creative, professional, and new modes of knowledge production.
Fast-forward to 2023 and Molobye (MA), now not only lectures Movement Studies, Physical Theatre and Choreography in the Theatre and Performance Department in the Wits School of Arts (WSoA), but is also pursuing a PhD specialising in movement studies and choreographic practices.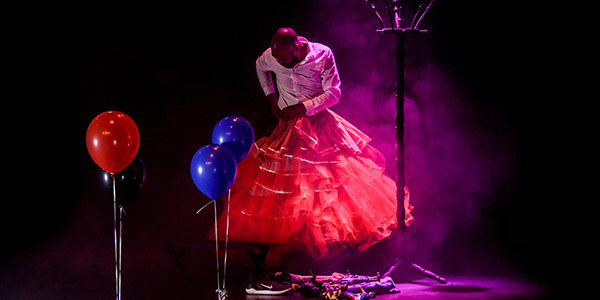 He says the current teaching of the creative arts, specific to the WSoA Theatre and Performance Department, "endeavours to challenge the already established canons of the creative arts from Western practices to develop Afrocentric approaches to teaching."
This approach fits neatly with his doctoral research on embodied practices and decolonial physical theatre pedagogies specific to South African theatre and performance departments.
"My doctoral research looks at 'developing decolonial teaching practices for movement and choreography studies at the Wits School of Arts Theatre and Performance Department.' I am interested in developing practices that position and locate the students' identities and recognise the value in the knowledge systems with which they come into the University, from their various social and cultural backgrounds."
Key to Molobye's work and interests is developing critical and reflexive skills in emergent arts and performance institutions. In this case, 'reflexive' refers to someone being able to examine their own feelings, reactions, and motives and how they influence what the person thinks or does in a situation.
Warding off stereotypes
As a Wits residence warden at Barnato Hall, Molobye's had ample practice developing reflexivity in his charges and in himself. His responsibilities as warden include enlightening students about the complex cultural, social, sexual, and educational nuances that come with learning at an institution such as Wits.
"We appreciate that the students come from various backgrounds and are in a space where they learn to discover their personal and academic selves. We engage in educational programmes such as academic talks, career development training, gender, and sexuality workshops," says the scholar whose research interests include gender and sexuality studies and who has published on queerness and identity politics.
"Performance Studies allows scholars and creatives to draw on the everyday, considering the social, cultural and performative systems that exist in life, to analyse, critique, and at times theorise on how humans exist," he says.
"My work enables me to participate in cooperative, communicative, creative, and leadership positions that require adaptability, reflexivity, and problem-solving strategies within the arts industry and economies – artistically, theoretically and institutionally."
Leading performance in Africa
Molobye's leadership is further evident in his role on the Board of Performance Studies international (PSi), a globally acclaimed arts and research association. He's the PSi's Digital Communications Officer (2022-2024) responsible for social media strategy, stakeholder collaboration and engagement, and conference communication strategist.
Molobye's Theatre and Performance department, along with Drama for Life (DfL), co-host the PSi conference in 2023. Themed Uhambo Luyazilawula ("embodied wandering practices"), the conference highlights practices of artists and scholars with indigenous and/or migrant roots in South Africa, and it places these practices and forms of research in dialogue and exchange with the work of artists and scholars in Africa and globally.
It's the first time the PSi conference is taking place in Africa.
It's also the first time there's been a person from the African continent on the PSi Board.
"What interested me about PSi was having an international body on the field of research with voices and perspective from a range of positions from around the world," says Molobye.
"I hope that the PSi Uhambo Conference will open us Wits University to be accessible to scholars and creatives, to contribute to the knowledge production of Performance Studies in Africa. The committee envisages Wits serving as 'the cradle' and holding space for innovative and forward-thinking practices and pedagogies in Performance Studies that are inclusive for people within and outside the academy to have their work received with the rigour and professionalism that work by scholars and creatives within the academy already receive."
Kamogelo Molobye, take a bow.