Not your stereotypical librarian
- Wits University
Dr Daisy Selematsela, the new Director of Wits Libraries, has many names that people have given her over the years.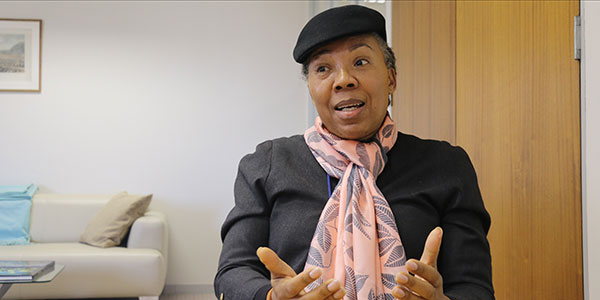 'Dr D' and 'Sister Boss' are just two of many that convey the affection that people feel towards her.
She is warm yet frank like the Dr D's in the agony aunty letters pages of magazines. As a school girl, her surname Selematsela – Sesotho for 'we dig the way' or 'pave the way' – was the more popular namesake from teachers and peers who recognised her leadership abilities.
All this energy is palpable when we meet in her office at Wartenweiler Library, the University's main library. Selematsela took office in March 2022 and joins Wits as the University charges into the next century – an exciting yet challenging time, she says.
"The understanding of the University's vision and the academic project is very clear. Wits is a celebrated University on the continent and holds its own in international rankings," she says, adding that the role of Support Services – and the libraries in particular – is critical to the University's 2033 Strategic Framework.
Daisy says her goal is to align the 11 University libraries to Wits' four key focus areas as articulated in the 2033 framework. These are advancing a shared identity; pursuing academic excellence; achieving social impact; and ensuring sustainability – which must be strengthened in the next 10 years.
For this to happen, she is keen to change how Witsies view libraries and also how librarians view themselves.
For starters, she wants to shed the persistent stereotype of a 'traditional librarian'.
"The idea of a librarian as someone who packs and stamps books is outdated. People need to know that librarians manage knowledge and support knowledge generation for academic good and for public good," she says.
Librarians themselves need to understand that they are information specialists and vital to the knowledge project, whether they are working with students or researchers, adds Selematsela.
Early career
This has been her belief since the beginning of her career as an Information Desk Librarian at Unisa in 1993, shortly after completing her postgraduate diploma (PGD) in Information Science at the then Rand Afrikaans University (now the University of Johannesburg - UJ). Several qualifications followed her PGD and culminated in a PhD in the same field at UJ. She also holds a Professor of Practice of Information and Knowledge Management at UJ.
Selematsela's career in information science happened by chance; she intended pursuing a postgraduate degree in psychology. However, one day while visiting her local library, the Soweto Funda Centre, the then 22 year-old Selematsela came across a pamphlet about information management. Her interest piqued and her career trajectory changed forever.
It has been an interesting and fulfilling career which has seen her become the custodian of information at key institutions in the country. Prior to joining Wits she was the Executive Director of the Department of Library and Information Services at Unisa, overseeing 13 libraries in South African and one in Ethiopia. Unisa, a distance learning institution was among the first institutions to grapple with the concept of e-libraries and successfully implemented policies which sought to strike a balance between virtual access and technological barriers to ensure inclusivity. She was previously also the Executive Director of Knowledge Management: Corporate at the National Research Foundation.
Selematsela has served her profession in various capacities including on the board of executive directors of the National Library of South Africa; the South African National Site Licensing , the Committee of Higher Education Libraries of South Africa and was recently appointed Chairperson of the Committee on 27 May 2022; and the South African Committee on Data for Science and Technology and serves on a number of international boards, scientific bodies and editorial committees.
Sharing the pie
Being part of the bigger picture and building relationships is important to her.
She is appointed to the IFLA SSA RDC (International Federation of Library Associations and Institutions Sub-Saharan Africa Regional Division Committee), a vital player in the region for achieving the Sustainable Development Goals (SDG). The objective is to build African library partnerships for inclusive information and education towards Agenda 2030 and 2063.
She is keen for Wits Libraries to contribute to the SDGs and to the Agenda 2063. A critical endevour as Wits marks its centenary, however, more pressing is the role of Wits Libraries in community engagement.
"It is the role of every library to ensure that the communities within their spaces are looked after and, for us, we are in a position to serve. It's about how we give back to the community within the Witwatersrand, Braamfontein, Joubert Park, and how we partner with the communities and NGOs that are here," she says.
In practice, this could even mean visiting old age homes with a trolley of interesting literature that can be loaned and exchanged every week or adopting feeder schools.
She is concerned that libraries are not fully utilised beyond the academic project. Her wish is for all Wits staff members – from grounds staff to sport and administrators to laboratory technicians – to find enjoyment in the massive collections in the libraries and archives.
Olympian spirit
The daughter of a cleaner at Baragwanath Hospital, Selematsela credits her mother for the gift of Ubuntu, her indomitable spirit and zest for life. She laughs that her mom was a no-nonsense woman and an active citizen who, up until her old age, was part of a group of women who would escort young girls in the morning to the bus stop for safety.
A wife and a mother to two boys as well as mother of many adopted young persons and the reason for the Social Media tag of #Motherhen. She enjoys family time, gardening, travel, and camping and hiking. She lives by the philosophy of "work hard and play hard". She also inspired a published children's book in English "Amazing Daisy" and Sesotho "Daisy a Makatsang".
Although her job and professional commitments demand more and more of her time, Daisy has set a personal goal to swim like an Olympian and has a rigorous schedule and a trainer to match.
That is 'dig the way' for you!