Meet Maureen Manyama CA(SA), Wits' CFO
- Wits University
Manyama describes herself as interested in combining her rural upbringing with finance and governance experience to advance national interests.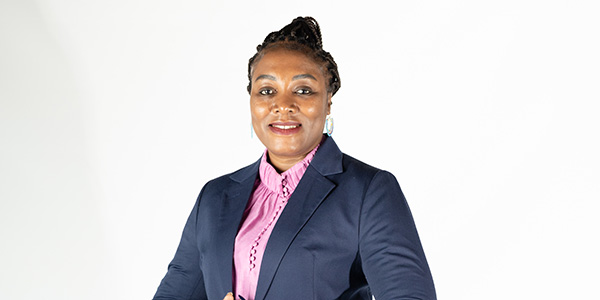 When Manyama was at school, working with numbers came naturally to her and there was no doubt in her mind that she wanted to pursue a career in accounting.
This saw her enroll for a BCom: Accounting degree at the University of Cape Town and thereafter joining Coopers & Lybrand now known as PriceWaterhouseCoopers, to begin her career and journey of becoming a Chartered Accountant. While the world was abuzz with the arrival of the millennium, Maureen was preparing for a new chapter at the Auditor General of South Africa where she continued working as a trainee accountant and was privileged to be part of the team that audited the United Nations Peacekeeping missions. However, it wasn't long before she was appointed audit manager – a development that came while sitting for the second part of the SAICA board exams for Chartered Accountants (CA).
"This leadership role was one of the early defining milestones in my career.
The exposure from internal and external auditing sparked a desire to build financially strong institutions that upholds the highest governance standards and practices. In 2003, she made a conscious decision to prime herself for the position of Chief Financial Officer (CFO).
While building her artillery of skills and leadership expertise, she opened herself during 2004 to serve on boards and governance committees of various industries ranging from financial services, aviation, real estate / property management, logistics infrastructure to agro – processing and those involved in defense. She also holds a MBA from the Gordon Institute of Business Science.
"It is difficult to move from being an auditor and just parachute to a Chief Financial Officer role. Even though you are a CA (SA), you still need the actual working experience. One can audit finance, as there is a view that you cannot audit something that you do not know, but unfortunately it doesn't mean you are qualified / suitable to be a CFO," she explains the drive behind serving on several boards.
The desire/dream of becoming a CFO was birthed in 2003 and was ultimately realized in 2010 when I was appointed as the CFO of the South African Forestry Company Limited (SAFCOL).
She is proud to have played a key role in the strategic direction in the corporatisation of Postbank as an Executive for Finance & Support; the restructuring of the South African Forestry Company Limited where she was an Acting: CEO for a year and the Airports Company of South Africa (ACSA); garnering multiple awards and unqualified audits. Her work geographical exposure to date covers SADC, West Africa, India, USA, UK, and Europe.
Role at Wits
While finance is often viewed as a back player, its role is central as it determines the success or failure of institutions and, relationships with key stakeholders. This is where the hand of the CFO becomes critical in executing three key roles.
"The first responsibility of a CFO is to provide financial leadership to the institution, and they must act as a sounding board on most if not all the decisions that have financial implications. The second role concerns the strategy of the organization; participating in the strategy development and advising if it is fundable, affordable, and financially viable and its impact on the long-term sustainability. Lastly, the CFO must exercise financial governance and report on the financial performance of the organization as well as ensuring that the financial risks are appropriately mitigated."
Acquainted with leading institutions of national significance, Manyamais excited to be at the helm of Wits Finance as the University celebrates its Centenary. She is responsible for establishing a sound fiscal position for the University so that it can be strategically positioned as an internationally renowned research-intensive and teaching institution.
"Wits plays a key role in the transformation of our society and its ideals resonate with me," she says.
She joined the University on 1 March 2022 for a five-year term. Her position is a continuation of a path within the Higher Education sector she started three years ago as a Council member (and Chairperson of the Audit and Risk Committee; member of Council EXCO) at Nelson Mandela University and a member of the NMU trust.
The insight and experience in state-owned entities/companies means she is aware of the challenges that face the public- funded institutions and the need to increase their third-stream income through e.g. research commercialisation, and creating an enabling environment that drives innovation and supports the strategy execution.
She looks forward to working with the diverse stakeholders who are part of the university and the higher education sector.
Moreover, the opportunity to serve students "directly or indirectly" is close to her heart. Her portfolio directly impacts the students through the services rendered by the Student Fees Office and Financial Aid and Scholarships Office
Outside of work, Maureen is a mother of two and enjoys hiking. Amongst her interest is reading self-help books on a range of subjects with leadership and personal development being her top two favourite themes.