The changing role of ICT
- Wits University
Wits alumna and Senior Manager at Wits ICT says the role of techies should go beyond providing cutting edge and user-friendly infrastructure.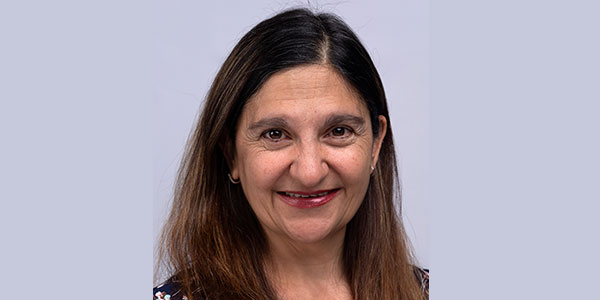 Luci Carosin has one of the Emmy award-winning roles in the great tech epic that Covid-19 directed. "When I started in IT at Wits, our job was in the background. We were the bit parts (a phrase referring to a small role in a film). Now, we're critical to the show going on. We're the reluctant stars," said Carosin.
Carosin, a Senior Manager of Applications and Solutions at Wits ICT and Wits Covid-19 Hero, is not used to the limelight. She's been at Wits for 30 years and has had IT jobs in different departments since graduating from the institution. Carosin's first role was in the IT department at Wits Business School where she had a part-time job. She's grown in leaps and bounds since then and suggests that she'll only leave Wits at retirement or when the lights go off. (Well, they've gone off a lot, and she's still here, which speaks to her loyalty, mettle and temerity in sticking things out.)
Before Covid, Carosin and her team were already troubleshooting the institutional learning management system (LMS), Sakai. The University was moving to accommodate the growing adoption of online learning, and the interest in global distance education. But when the pandemic hit South Africa, Carosin had her proverbial trial by fire. "Whatever came next was so utterly out of left field. I didn't sleep a lot in those early days. And during exam time… I don't know how we survived. I think it was an amazing team effort to respond to crashes, breakdowns, and bottlenecks. Thank goodness we transferred the hosting of Sakai from Wits to the Cloud," she said.
For over a year, Carosin has been centrally involved in the changeover to a new, much more reliable and modern LMS, Canvas. She is the key link between the company that owns Canvas, the technical company migrating all Sakai courses, CLTD, the Senior Director: Academic Affairs, Wits ICT, the online learning designers helping lecturers with the changeover and the Assistant Deans: Teaching and Learning.
The changeover from one LMS to another is enormously complex, involving technical project management and strong interpersonal skills. Carosin's colleagues have applauded her for working competently, tirelessly, willingly and always with a positive, helpful and friendly attitude. This has earned her a nomination as a Wits Covid-19 Hero, an honour accorded to those who distinguished themselves through service and selfless acts in 2020.
"I was so impressed with the academic staff who really came on board to shift not only their instruction mode, but their whole mindsets. Academics were thrown in the deep end. Teaching to an online audience is not like a traditional lecture scenario. You have to be innovative, create interest and facilitate interaction," said Carosin.
Wits has named its elaborate and innovative LMS, ulwazi, which uses the Canvas online platform to support teaching and learning. It is a powerful system, and Carosin becomes audibly more excited when talking about ulwazi. "Ulwazi is literally the canvas from which lecturers and teachers can create their learning artworks. It's so user friendly. I can't wait for the future of teaching and learning," says Carosin.
She doesn't believe the University will ever revert to pure in-person teaching, and that her role as an IT expert will not only be to ensure a smooth online LMS user experience, but to push for students to access higher education with decent data coverage at a lower cost, and to have efficient laptops. "We can have the bells and whistles and compete with universities all over the world, but we also need to address access to technology, data and decent study spaces," Carosin asserts.