Sunnyside housekeeper keeps the virus at bay
- Wits University
The improved working conditions she found as a Wits employee made it easy for Mncwabe to dedicate her time to the institutions' fight against the virus.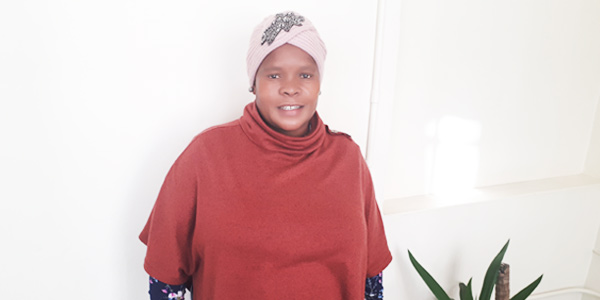 A Sunnyside residence housekeeper, Precious Mncwabe, is appreciated by her colleagues as a warm and kind person who always prioritises the needs of students. She is known for dedicating extra time to ensuring that students remain comfortable and safe, beliefs that became even stronger at the start of the Covid-19 pandemic in 2020.
As a housekeeper at the student residence, Mncwabe plays a crucial role in the upkeep of the accommodation by ensuring that all residents adhere to the necessary hygiene standards in the fight against the coronavirus pandemic.
Mncwabe, a mother to four kids, says that assisting the University, and consequently the nation, fight against the virus and reduce the risk of infection among students has been a fulfilling experience for her.
"In the beginning, it was stressful thinking that students could get infected, but at the same time, I felt the responsibility to make sure that students were protected. As a staff member and a mother, I wanted to make sure that that the students were always okay and protected against the virus," she says.
"Knowing that we are all fighting this virus together and we were all contributing to fighting this war makes me feel good to this day," she adds.
Mncwabe first began working at Wits as an outsourced worker employed by a private company contracted to provide cleaning services in 2001. After years of suffering unfair treatment at the hands of her previous employer, she became a permanent employee of the University in 2016 and started working at the residence in 2018. She says that she is grateful that by the time the coronavirus pandemic reached the shores of South Africa, she was already a permanent employee of the University. This, she says makes her feel adequately protected against the virus both physically and financially.
"There is a huge difference between working for Wits as a permanent employee and working as a contracted employee under a private company. Our working conditions have improved drastically."
"We found working with private companies difficult, especially when it came to issues around unfair treatment and harassment. We earned very little money while working for private companies, but we had so much work to do," she recalls.
For Mncwabe, the improved working conditions she found as a Wits employee made it easy for her to dedicate her time to the institutions' fight against the virus.
At the onset of the coronavirus pandemic, the hard lockdown saw harsh restrictions imposed on public transport service providers. Taxi drivers had to maintain a 50% occupancy rate to allow for social distancing in their vehicles, taking the taxi drivers longer to transport commuters. This forced commuters like Mncwabe to travel to work earlier than usual. However, this did not discourage Mncwabe, who travels from Orlando East in Soweto to work in Braamfontein each day.
"I always remembered that the children need us, me being at work is important because my students need me. If we as support staff decide not to come to work and leave the students and others to fend for themselves, it would be difficult for them to do that, and that could put them at risk," she says.
Remembering where she comes from keeps Mncwabe grateful and committed to putting her best foot forward as the Sunnyside Housekeeper. This sobering memory is also one she uses to keep her peers motivated.
"I always try to encourage my co-workers to continue working and doing their best even under these trying conditions. I am always reminding them of what we have had to endure to get to this point," she concludes.