Serving all equally – Service before self
- Wits University
Fears of Covid-19 did not stop Wits network support technicians to service staff at academic hospitals during hard lockdown.
Embracing and promoting equality is an intrinsic value of the University. All Witsies need to be treated the equally whether they are based in an academic hospital or across Wits' campuses. And this is something that Hosia Monyemangene and Tokelo Moswathupa try to uphold as they go about their duties.
The pair, who are nominated as Wits Covid-19 Heroes, are network support technicians at Wits ICT and their work often takes them to areas which, under current the circumstances, are considered dangerous territory.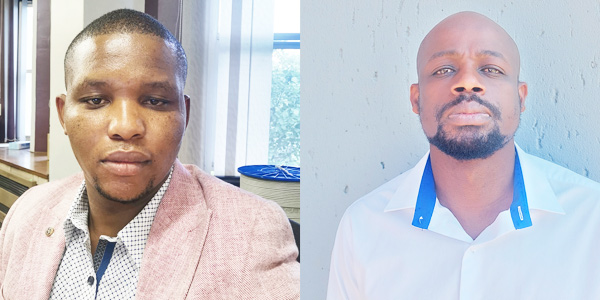 These technicians did not back down when duty required that they venture into hospitals to support staff in academic hospitals – at a time when hospitals were feared because of the novel virus.
Despite the growing public fear and having to navigate around Covid-19 wards in order to get to the heart of the network system, Moswathupa and Monyemangene did not cease their duties – which were critical to systems and operations. Wits University services four academic hospitals around Johannesburg where Wits staff and students serve and train.
Unwavering selflessness and reliability fueled the technicians' courage during the period.
"It comes down to understanding that people depend on me and I cannot let the down," says Monyemangene.
Moswathupa echoes his colleague's sentiments, stating that his commitment is inspired by the high standards associated with the University.
Moswathupa, who was just a year into his job at Wits during the hard lockdown and still finding his way around the massive institution, says that he is driven by the high calibre of people he meets on a daily basis.
A humble individual, his people-centered approach comes with a lot of patience and this contributes to his dedication and notable nomination. He believes in collegiality to achieve institutional goals.
"I get very excited when I successfully mobilise different people to work together despite misunderstanding that arise during the process. This gives me a lot of joy," says Moswathupa.
Motivation in the workplace drives commitment and advances organisational success, an objective fellow Wits Hero Monyemangene strives for in his duties.
"You know what they say. A career takes the highway when the motivation is in the driver's seat," quips Monyemangene.
About Wits Heroes
The Wits Heroes Series celebrates staff and students who went beyond the call of duty at the onset of Covid-19 in 2020. Wits Heroes were nominated by members of the Wits community.