Rural doctors did it for local communities and schools
- Wits University
The Wits Heroes Series celebrates staff members who went beyond the call of duty at the onset of Covid-19 in 2020.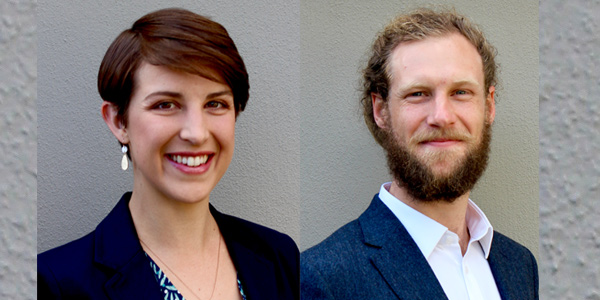 Just at the start of their posts with the MRC/Wits Rural Public Health and Health Transitions Research Unit (Agincourt) in early 2020, Drs Bianca Moffett and Jacques du Toit were met with the slow approaching effects of Covid-19 on the rural community of Bushbuckridge, north of Mpumalanga. With a background of working as medical doctors in the rural Eastern Cape, Dr Moffett had joined the unit as a Project Manager for the DoBAT Study (investigating Digital delivery of Behavioural Activation Therapy) and Dr du Toit as a Covid-19 Response Advisor.
What they observed, du Toit says, was a growing level of anxiety among healthcare workers and a district hospital that was already at full capacity.
"Healthcare workers were particularly concerned about whether there would be sufficient Personal Protective Equipment (PPE). Furthermore, most hospitals lacked capacity to ventilate patients for the durations needed, relying on an already overburdened referral hospital in Nelspruit. And much of the infrastructure to even deliver oxygen was dysfunctional and insufficient to meet a surge in demand."
The two young doctors quickly began working, going beyond the call of duty and leading the Hlayisekani initiative in response to the local Covid-19 epidemic.
Hlayisekani, meaning 'be safe' in Xitsonga, saw the collaboration of MRC/Wits-Agincourt Research Unit, Tshemba Foundation and local Department of Health staff.
"The initiative provided organisational support and public health expertise to district health authorities and healthcare facilities to adapt national guidelines, train staff, and co-develop and implement systems and standard operating procedures," says du Toit.
As part of the initiative, Moffett went on to lead a support programme involving 41 clinics in Bushbuckridge. The running of the programme lightened the burden of patients being treated at local hospitals. The clinic staff were trained in the know-how of appropriately screening patients, detecting and referring patients that were infected with the virus, and providing information on the patients.
Nurses and staff at these clinics were also trained to be "Covid-19 ready".
After getting input from primary healthcare staff and managers, the pair created a handbook as well as a series of posters used to train staff at clinics. Each clinic having had at least two training sessions.
"The first of these [sessions] aimed to equip healthcare staff on what Covid-19 is, how it spreads, how to protect themselves, how to prepare their clinics to minimise spread, treatment and, support and information to offer patients," Moffett explains. Staff also had the opportunity to voice their concerns and address their anxieties.
The second session provided support for implementing Covid-19 preparedness measures and included training on how to carry out naso- and oro-pharyngeal swabs (Covid-19 tests).
Healthcare workers became increasingly concerned about the risk of contracting the virus and passing it on to their families as PPE began to run out. To tackle this issue, Moffett and du Toit created a crowd funding campaign through BackaBuddy raising over R500 000 in less than three months.
"This enabled the purchase of large quantities of N95 and surgical masks, gowns, sanitisers and gloves. We also developed a reciprocal relationship with Gift of The Givers who supplied us with PPE, oxygen saturation monitors and intubation boxes, and in turn we sent them any unused PPE to be redistributed to other parts of the country in greater need," adds du Toit.
Local schools also benefitted from the programme. The team was approached by the local Department of Education to help them prepare for the reopening of schools taking into consideration their geographic location.
Moffett set up and oversaw workshops for at least 23 local principals and 100 teachers – in preparation for safe contact teaching. The workshops also enlightened the educators on what the virus is and how it spreads, how to identify symptoms, and prevention methods using cloth masks and inexpensive ideas for hand-washing stations.
du Toit humbly points out that the Hlayisekani Bushbuckridge initiative continues to be a collective effort.
"The initiative reflects the energy and passion of many individuals in Bushbuckridge who came together during a time of need."