Providing data for Covid decisions
- Wits University
From providing analysis to the government, media and the public - Prof. Bruce Mellado has empowered many to make informed decisions about the pandemic.
Seven hours of sleep a night has become something of a distant memory - and luxury - for Professor Bruce Mellado in the days of Covid.
The senior scientist at NRF-iThemba LABS is research professor in the School of Physics at Wits University and Director of the Institute for Collider Particle Physics. He also serves on the Gauteng premier's advisory committee on Covid-19 bringing his mathematics and data science expertise to model the trajectory of the virus in South Africa and how it behaves in the province.
"I try to get seven hours of sleep a night because I don't do well on little sleep. But over the last two years that's not always been possible. Some days we were working 14 hours days - but you do it because as a modeller I understand that the information being synthesised guides policy and policy can affect behaviour and those small changes are what can save lives.
"It has been very intense because people – from government to media, to the public – want answers yesterday but there are rules and regulations with analysis and analytics and you can't always just rush," he says.
For his contribution and outputs that are used by the Provincial Command Centre, the South African Command Centres and governments in the SADC region, Mellado has been nominated as a Wits Covid-19 Hero.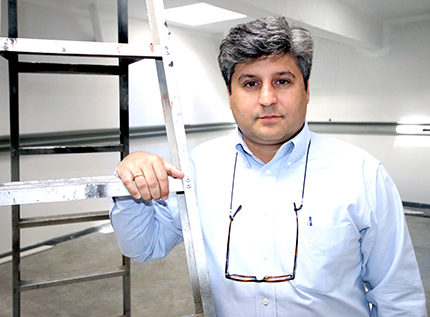 By nature, Mellado is a person who is about focus and measure. Science, numbers, calculations and the possible outcomes they deliver help him order his world and from that comes a degree of calm in his life. It's what keeps him from going into a spin of panic even though as an insider he gets an intimate and sometimes horrifyingly close-up peek into the data story of Covid-19.
"There was a time when in the third wave when I was very worried that we could go the way of India because I could see what the numbers were showing us at that time," he says.
The toll was, and is still, bruising but Mellado says now is not the time to quit, not with a fourth wave looming. "You carry on because emotions can make you go off balance," he says. But he adds with a laugh that his "data over sentiments" approach to many things in life can sometimes drive his wife "a little dilly".
While there's been little meaningful downtime over the past two years for Mellado he still squeezes in gym four times a week and sometimes a few minutes to read some of his favourite Russian classics. But it's spending time with his family that's been a vital way to recharge. The couple has two children and together they enjoy walks, hikes and taking in the sights of a country that's been home since 2013.
Mellado was born in Sydney after his parents emigrated to Australia in 1970 from Spain.
"My father, who was a mining engineer, tells the story that he couldn't decide whether the family should emigrate to Canada or Australia - so he tossed a coin and it came up as Australia," he says.
After some years in Australia the family returned to Europe. Mellado's wife is Swiss-German and he has also lived in Russia. His family then relocated to the United States where he took up a professorship before they set their sights on South Africa.
"I wanted to build something bigger and better with more satisfactory funding so I decided to come to South Africa. Building up the institute that we now have has been incredibly rewarding and my children speak English with a South African accent too," says Mellado, who recently added the TW Kambule-NSTF research award to his long list of career achievements.
These accolades and awards are welcome, but Mellado says Covid has shown that there is also a moral and ethical duty that goes beyond what a career role asks of someone.
"You come to understand that you have a different kind of responsibility to help in responding to something like Covid-19. It has turned out to be a lifetime experience. Working as a modeller has shown me ways to close the gap between policy makers and researchers and also to find ways to communicate complex information in a tangible way to government, media and the public," he says of showing up when it matters, even if you forgo a few hours of sleep to do so.
About Wits Covid-19 Heroes
The Wits Heroes Series celebrates staff and students who went beyond the call of duty at the onset of Covid-19 in 2020. Wits Heroes were nominated by members of the Wits community. Discover other Heroes.